What sport comes to mind first when thinking about shotguns? Clay shooting is one of the best-known, along with trap and skeet. Everyone knows about clay pigeon shooting even if they haven't done it personally. You might have watched this sport at a gun club or during the Olympics. Sporting clays, skeet and trap use the same basic equipment but these sports differ in other ways. Try all three and you'll likely find you have a favorite.
Shotgun sports can be challenging and exciting but unless you know a little more about what's involved in each one, it's tricky to know if it's for you. That's why we're going to take a look at 'the big three' shotgun sports, so you can decide which you want to try next!
Shotgun Sport #1: Trap 
Let's start off with Trap since it's the most straightforward shotgun sport to get started with. Trap (American Trap specifically) has quite a big following and has featured in the Olympic Games. A team of maximum 5 shooters take it in turns to shoot one clay randomly thrown from a machine within an arc of 45 degrees.
The firing machine is 16 yards ahead of the firing line. Every station will have a shooter in a different position from the trap house to change up the target presentations. There are 5 shots from 5 different stations (25 shots in total) for one round of trap.
This is a fast-paced sport and there isn't much downtime between the shots. You are engaging a moving target but not moving from your position, unlike other shotgun sports. Because only one target flies at a time and a short amount of lead is needed, trap is a good option for newcomers. Once you're familiar with American trap, you might always want to try other versions of the sport like doubles trap or international trap.
Trap can be more of a challenge than it first sounds. The things that make it a good beginner's pick might hinder your ability to shoot other target types later. Hard-crossing targets on a skeet field can make you lose focus while seeing that initial hit on your score.
Trap also gets competitive and you will see one of more 100/100 scores watching a serious trap contest. If you shoot for pleasure, you might prefer to concentrate on hits rather than trying to avoid misses. Trap is fun and certainly worth a try if you enjoy shotgun sports. Do bear in mind though it can turn into a mental focus test very fast.
If you have the space check out our article on Best Clay Pigeon Throwers.
Shotgun Sport #2: Skeet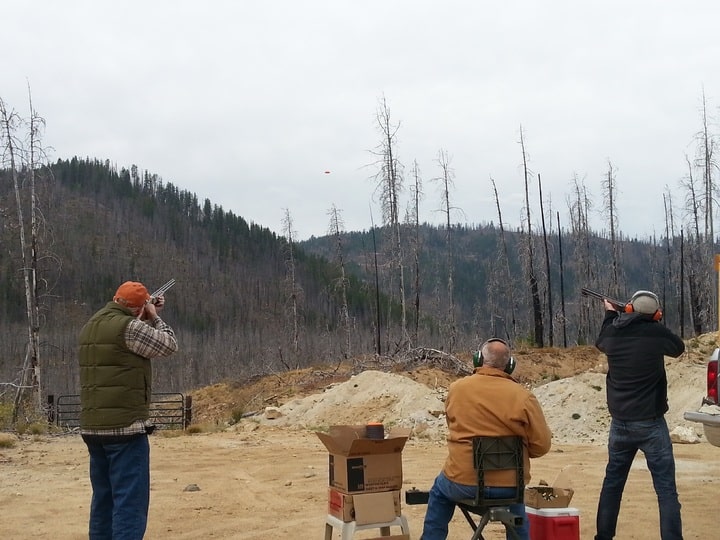 Skeet is a very popular clay sport here in the US. There is more to learn than with trap, but there are plenty of different target presentations involved to keep you interested. Skeet is the opposite of trap in several ways. This sport has squads of shooters who will take turns to fire from 1 of 8 skeet stations.
They then head to the next station as a group. So rather than a machine varying target angles, the shooters change their positions instead.
Also, rather than a single target thrower, there are 2 throwers on a skeet field. These are at different heights so pairs of skeets can be thrown at the same time, often crossing one another.
There are 25 shots in a full round of skeet. The shooting methods are more complex than trap and it can take a few practice rounds to remember them all.
It's challenging to have 2 targets at the same time and makes the game exciting. This can be overwhelming to new skeet players in the beginning. The great thing about this sport is it has enough variety to provide shooters with a challenge but still has enough structure so shooters can memorize each station.
As a new skeet player, it's normal to only hit a few targets during your first round. This can be demotivating, especially when more seasoned shooters are hitting 20 or so. Consider skeet if you're familiar with shotgun fundamentals. If not, you might like to start out with a coach or join another squad and see how you get on.
Shotgun Sport #3: Sporting Clays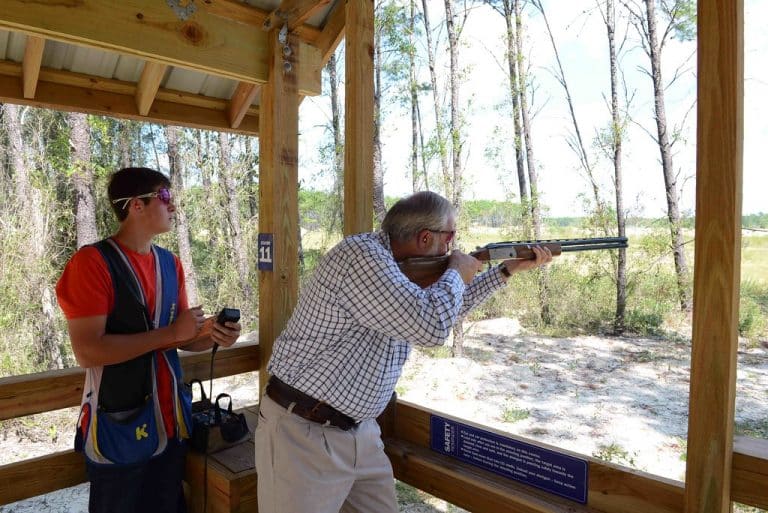 Every sporting clays course is slightly different. The shape and size of targets can vary and there aren't any guides or restrictions on how they can be thrown. Sporting clays, often described as 'golf with a shotgun', keeps things interesting by placing obstructions between the shooter and the target, as well as varying the terrain. Sporting clays is the closest approximation to shooting a moving target in the woods since there are so many variables.
A typical sporting clays (or clay pigeon shooting) course has between 8 and 15 stations and takes between 50 and 100 shots to finish. Targets are launched in pairs, either throwing the second after the first has been shot at or else simultaneously. A sporting clay course can be more than a mile in length but there is also a more compact version known as '5-stand'.
Because sporting clays is a game-bird simulation, it's a nice choice to hone your shooting skills between one hunting season and the next. The variety of targets means the difficulty can be adapted to suit the skill level of the squad. Nearly all ranges off a suitable course for beginners so it's an accessible sport even if you're a newbie.
Sporting clays is a solid sport, to begin with because there are similar presentations on both skeet and trap fields. This sport might be the most exciting of the three although it costs more in course fees. A course of sporting clays lasts longer than either skeet or trap.
Clay shooting is sometimes overlooked since there are various other shotgun sports and competitions to choose from. It's still one of the most fun choices though since you need to balance accuracy and speed. If you're new to shotgun sports, contact a local shotgun club to see which options are on offer.
Something Different: Defensive Shotgun Matches
Although the above sports are considered the top three, defensive shotgun matches are another shotgun-based activity currently gaining popularity. Tactical scenarios are set up for the shooters who will engage targets (typically made of steel) and change positions.
This type of staging roughly simulates using a tactical weapon in a defensive situation. It's scored on accuracy and time as well as hitting the targets.
Shotgun matches can improve your shooting skills. Your local shotgun range will be able to tell you more about this sport. You will need a shotgun and shells as well as ear and eye protection.
Trap vs Skeet vs Sporting Clays – Conclusion
Whether you are a complete newcomer to the world of shotgun sports or just looking for something new to try, any of the above can be plenty of fun. Don't worry about any lack of experience or practice since most participants will be happy to welcome and assist new shooters.
Alex Joseph is an avid bow hunter and father of two boys. Originally from Tacoma, Washington. Alex now resides in California.
Source
Trap vs Skeet vs Sporting Clays – is written by Alex Joseph for gunnewsdaily.com