The compound bow is the most popular type of bow in use today. They are great for both beginners and veteran archers alike. Compound bows provide an advantage over recurve bows by giving the archer a mechanical advantage that provides more power with less effort.
Most archers begin and end their journey with the sport of archery using a compound bow. Here is a review of some of the best compound bows for hunting on the market today.
Compound Bow Buying Guide 
There are many different features of compound bows that must be considered before purchase. If you are going to be hunting in tight spaces, from a tree stand, or from a ground blind, you might want a more compact bow.
If you are someone who has weaker arm strength or can't hold the bow on target as long, it is imperative that you choose a bow that offers stability, as a stable bow allows you to shake less and be more accurate. Comfort plays a key role in bowhunting, as you will enjoy your time in the woods more if you have a comfortable bow.
Finally, one of the most important factors that should be considered is the price. Buyers should be aware that, with bows, you get what you pay for. A bow that costs more will have more advanced technology, lighter weight, greater cam efficiency, and many other upgrades.
As someone who doesn't care about an ultralight bow, save your money and buy something heavier that costs less. If you don't care as much about having a bow that is very customizable, save your money and buy a bow with less customizable features.
If you do want or need some special features, it is important to spend the money to get one. Always compare warranties, as the bow's durability and warranty can often contribute to a higher or lower price.
Mathews is one of the most well-known bow brands in the world. It comes with little surprise, as their bows have some of the best quality for very reasonable prices. The Mathews VXR 28 sports a six-bridge riser that has been extended, adding strength while keeping weight at a minimum.
The new riser also provides more stability to the entire bow, making it easier to hit what you are aiming at. The VXR 28 feels equally at home whether you are in a treestand or a ground blind, as it is highly compact while feeling large and forgiving in the archer's hands. Stealth is this Mathews bow's middle name.
It uses 3D damping to keep the noise down, making it a highly-stealthy bow hunting rig. The designers at Mathews also made sure to increase the efficiency of the cams, giving it more stability and strength, with less effort. Any bow hunter looking for a perfect compromise between stealth, stability, and strength, should highly consider the Mathews VXR 28.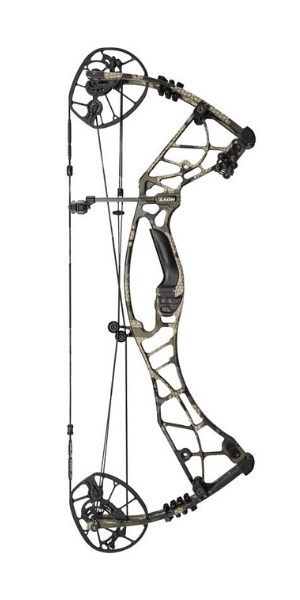 Hoyt is a great company that almost every single archer has heard of at one time or another. They have a wide following and a devout fan base due to their high-quality bows at a great price. If you are looking for one of the best compound bows for hunting, look into the Hoyt Axius Alpha.
The Axius Alpha comes in a minuscule 29.5-inch axle-to-axle design, making it perfect for hunting in tight spaces. Treestand hunters, ground blind hunters, and other hunters who contend with tight draw spaces will love this bow. Hoyt upgraded their aluminum riser using a new Integrated Rest System, providing for a lightweight but stable hold.
Of course, since this is a smaller bow than Hoyt has developed in the past, the cams were redesigned and they are as smooth as silk, providing a lot of speed without any excess bulk. For any bow hunter who has had trouble finding the perfect compact hunting bow, the Hoyt Axius Alpha might be the perfect one for you.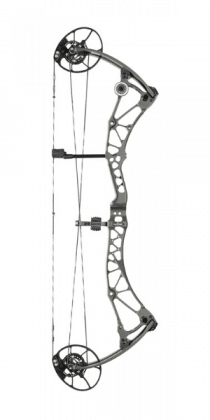 One of the hottest compound hunting bows on the market is the Bowtech Revolt X. Bowtech has always produced great bows and it is no wonder that one of their bows was going to make it on this list.
The Revolt X is a great bow for anyone that wants the stability that a longer bow provides. There is a 33" axle-to-axle measurement, meaning that you will be able to squeeze more accuracy out of this bow than many others.
The Revolt X features a new DeadLock Cam System, and as long as you do your part, this bow is capable of putting the arrow in the same hole time after time. One of the other features on this bow that hunters love is the grip.
The grip is very comfortable while reducing torque, providing for more control over the bow. The Bowtech Revolt X should be considered by anyone looking for a hunting bow that shoots with the stability and accuracy of a target bow.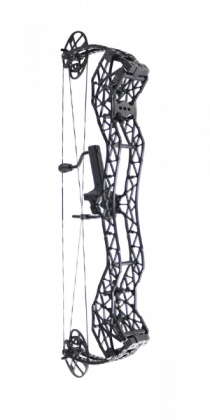 Gearhead simply makes some awesome bows. One of their most innovative designs is their Disruptor series. The intricate, skeletonized frame of the bow does not compromise even a little bit of stability while cutting way down on the weight.
The Gearhead Disruptor 30 comes with a 30.625" axle-to-axle length, making it a great middle-ground between compactness and stability. The Disruptor 30 features a unique riser made of hard coat anodized aluminum, offering loads of strength while weighing very little.
Any user of this bow can modify the grip in six different ways, providing the ultimate personal touch to each bow hunting rig. Gearhead's ST-2 Stabilizer mount is excellent, offering consistency and stability to each shot that is taken. The Gearhead Disruptor 30 is worth considering if you are looking for a compound bow that takes lightweight to a whole new level.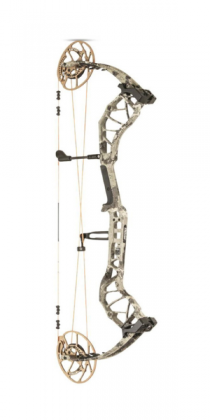 Bear Archery has produced great products since their humble beginnings and does not plan to let up on that sentiment now. The new offering from Bear, the Divergent EKO, is one of the best compound bows for hunting on the market today.
The Divergent EKO uses Bear's unique "EKO Technology" that allows archers to set their let off customization at four different positions, providing excellent customization for every individual archer. With a 30 inch axle-to-axle length, this bow is stable while remaining compact and maneuverable.
Perfect for hunters who hunt from tree stands and ground blinds, the Bear Divergent EKO really feels like an extension of your body. The Divergent EKO features a ShowWaves dampening device, reducing shock to your hand and getting rid of vibration.
Bear outfitted the Divergent EKO with their "Slim-Grip" that provides the user with comfort while providing a good surface for accuracy and stability. Whether you have never used a bow from Bear, or you have been a loyal fan for years, there is no harm at all in considering the highly-customizable Divergent EKO.
These bows were listed in no particular order, as they are all excellent options for the brand-new bowhunter or the decades-long veteran. The compound bows on this list comprise an excellent value while providing a lot of quality and features.
Keep in mind all of the features that you need and any special conditions that apply to you, as these will help guide your purchase. Regardless of the bow, you decide on, you will have a great time hunting with your new compound bow.
Alex Joseph is an avid bow hunter and father of two boys. Originally from Tacoma, Washington. Alex now resides in California.
Source
Best Compound Bows for Hunting is written by Alex Joseph for gunnewsdaily.com