Law Enforcement Officers know the importance of a good flashlight, especially on the night shift. Having a powerful flashlight is important, but with all the other gear LEOs are required to carry, having a small rechargeable LED Flashlight is just as important.
The ASP Scribe is a powerful 330-lumen, two-power flashlight the size of a pen, which means it's easy to carry just about anywhere on an officer's vest, belt, or pocket. The best feature of the ASP Scribe is that it comes with a USB-rechargeable Lithium-Ion battery, but can also accept two AAA batteries. This ensures that you will never be without a powerful light when you need it most.
Small LED Flashlight Design
The ASP Scribe is a penlight, so it's extremely light and easy to carry. The body is made of 6061 T6 high strength aluminum with a matte black Type III hard anodized coating. It is long and thin to fit into any pocket with the detachable pocket clip. It has grooves in two places on the body to ensure a firm grip.
To activate the flashlight, you press the rubber on/off switch located on the bottom. You can soft press the on/off switch to give you a quick burst of light, or hard press and "click" the button and turn it to "constant on" mode. To generate the 330 lumens, the ASP Scribe features a high output Cree XPG LED. This gives you a super bright LED flashlight that doesn't weigh you down.
Scribe LED Flashlight Specs
Length: 5.5"
Diameter: 0.75"
Weight: 2.2 oz (with batteries)
High Output: 330 lumens
Low Output: 15 lumens
High Runtime: 1 hour
Low Runtime: 23 hours
Battery: 10900 Lithium-Ion Rechargeable OR 2x AAA Alkaline
ASP Scribe 330 – Features
LED High Output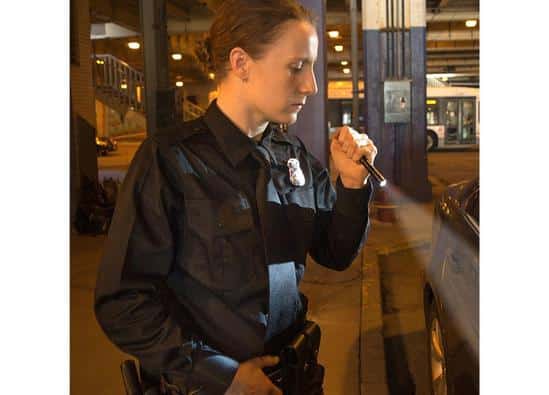 The ASP Scribe features 330 lumens in high output mode, which is incredibly bright for a light weighing just over 2 ounces. For an LEO, that's bright enough to light up a dark alley or the backseat of a car with ease.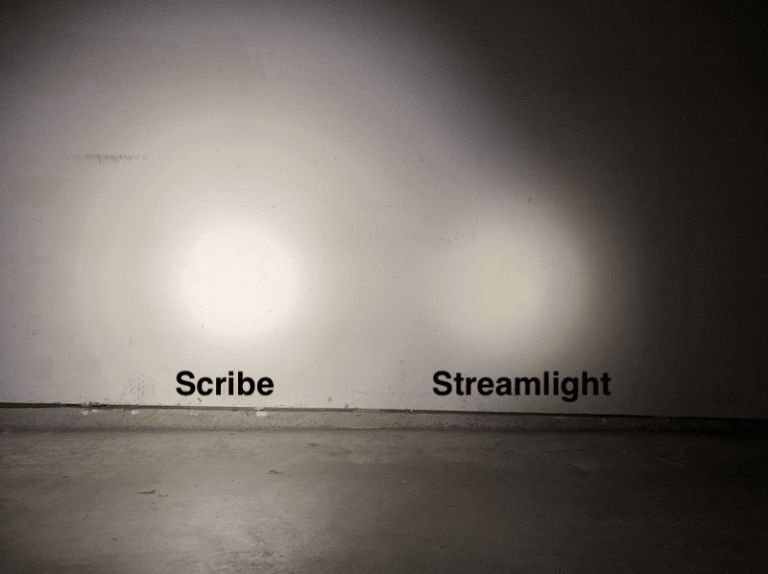 Dual Output Settings
For those times you don't need bright light, the Scribe features a two-stage on/off button. Press once for high output, or twice for low output. Low power is great for doing paperwork at night or other close-up work. In low power mode, the battery will last nearly 24 hours before needing a recharge.
LED Flashlight Dual Fuel Technology
One of the best features of this penlight is that it comes with a USB rechargeable Lithium-Ion battery, but can also accept two AAA Alkaline batteries. This way, you should never be without a fresh charge.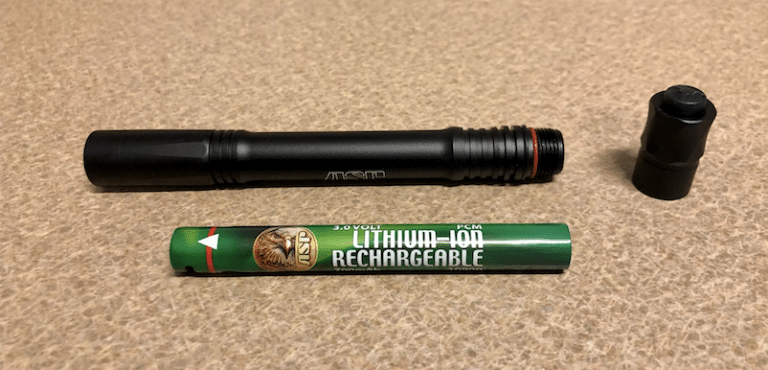 LEOs who rely on this flashlight will likely find themselves plugging in the battery each night to get a full charge before their next shift, as well as carrying a couple of AAA in their gear bag for emergencies. One full charge should be more than enough to last even the longest shift.
Cree XPG LED
The Cree XPG LED lens paired with a mirrored polished aluminum reflector creates a powerful central beam and a room-illuminating halo. The central beam is strong enough to reach across a dark room or dark alley and illuminate an object or person. The halo is bright enough to illuminate the periphery well enough to see clearly.
Detachable Pocket Clip
Being a penlight, the ASP Scribe has a pocket clip to hold the light in your pocket, just like a pen or a folding knife. The clip is big enough to also hold the light on a tactical vest or belt if you prefer to wear it that way.
And the clip is detachable, so if you prefer to remove the clip, you can.
ASP Scribe – Favorite Feature – Rechargeable LED Flashlight
My favorite feature is the rechargeable Lithium-Ion battery. To recharge the battery, you remove it from the flashlight body and plug the USB cord directly into the battery itself. The positive end of the battery lights up when you charge it, flashing red while charging and turning green when it's fully charged.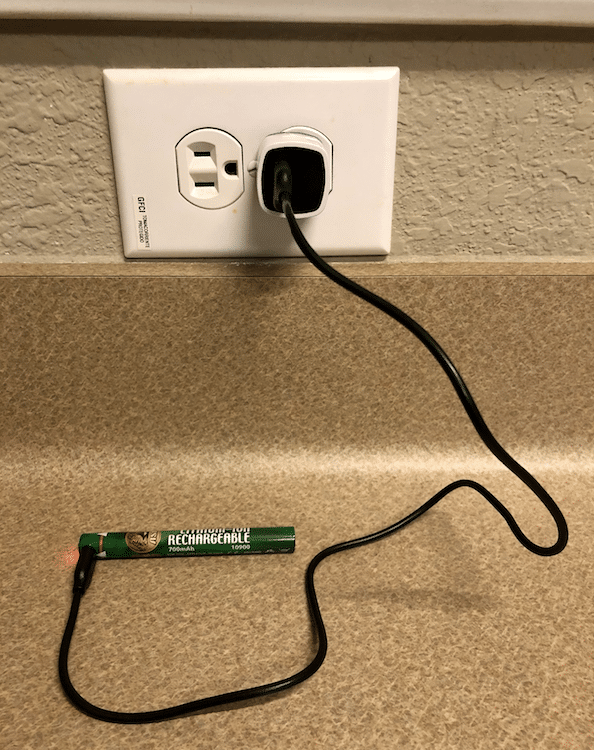 Cons
Heat Management System
On the ASP website, they boast that the Scribe comes with a "heat management system" which controls the heat created by the LED bulb when the light is turned on. It may manage the heat, but it doesn't eliminate it. When the flashlight stays on for more than about a minute at a time, the front ¼ of the body becomes noticeably warm.
Not so warm that it will physically burn your skin, but it's noticeable. The heat does not extend to the remaining ¾ of the body, which is where your hand is when holding the flashlight normally, so you won't notice it unless you actually touch the lens or front ¼ of the flashlight. It's a small deficiency, and certainly not enough to keep me from recommending the flashlight, but I had to mention it.
Detachable Pocket Clip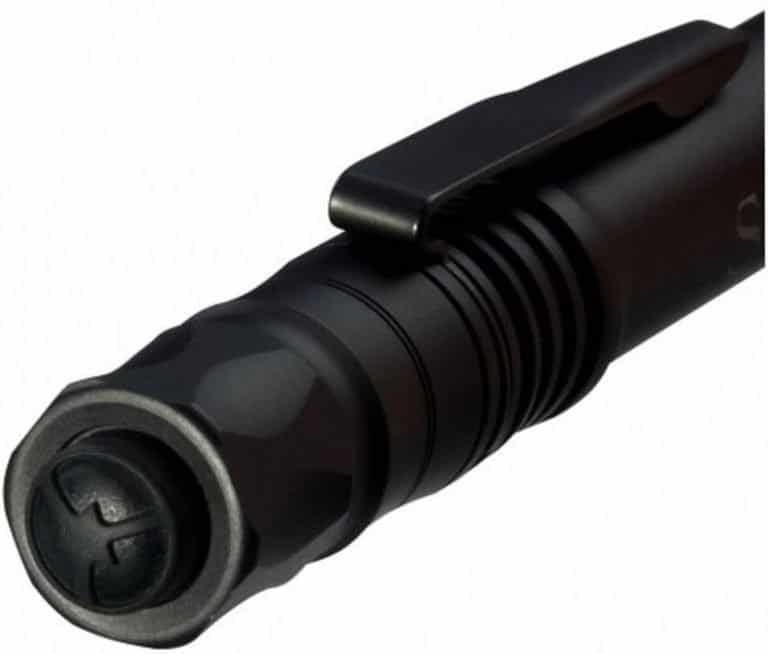 While the detachable clip is an important feature for holding the flashlight in your pocket, in my opinion, it could be built a little more sturdy. After just a few minutes of use, it began wiggling side to side, as if it was loose. After using the clip to hold the flashlight in my pocket a few times, it began to bend away from the body of the flashlight.
If the clip was just a bit thicker, I think it wouldn't lose its shape so quickly. Because it's detachable, you can remove the battery cap and take off the clip and "reshape" it so that it holds the flashlight in your pocket firmly again. But a better, thicker clip would be nice. Again, it's not enough to keep me from recommending the flashlight, and only a minor inconvenience.
ASP Scribe – Conclusion
The ASP Scribe is a great small flashlight for LEOs who are trying to minimize the weight of the gear they carry. At just over 2 ounces, you will hardly notice it in your pocket or on your vest.
But the 300-lumen max output is more than enough to light up an alley when you need it. The Scribe LED Flashlight is an affordable alternative to more fancy, higher output flashlights yet still provide you with the power that you need. And the dual-fuel technology that gives you a rechargeable LED flashlight, means you will never be left in the dark.
Alex Joseph is an avid bow hunter and father of two boys. Originally from Tacoma, Washington. Alex now resides in California.
Source
ASP Scribe 330 Lumen Small LED Flashlight Review – is written by Alex Joseph for gunnewsdaily.com