Women may have difficulties when carrying a gun comfortably and without sacrificing fashion. Many companies have stepped forward to provide alternatives to carry wear.  Concealed carry leggings have grown in popularity, and concealed carry leggings with a built-in carry holster in the waistband have been a hit for women.
Leggings have long been a mainstay of women's fashion since they can be worn for exercise or dressed up for a night out. And being able to carry your firearm is an obvious plus.
While it is a positive thing that more ladies are considering concealed carry firearms, with a rising market comes, opportunists. These opportunists may have good intentions, but their products may not be safe to carry a gun. A decent pair of concealment leggings is more than just a pistol pocket in yoga pants.
What Should Concealed Carry Leggings Do?
To determine the safety and usefulness of each pair of leggings, I consider the following qualities:
Should allow for concealment in a discreet manner
Provides trigger protection, preventing the pistol from being accidentally discharged while in the holster.
Has retention, preventing the gun from falling out of the holster. For more information on holster retention, see this article.
Every time you reach for the weapon, it is presented at the same angle and position.
Concealment leggings, in my opinion, are all the rage right now. The trend began with UnderTech UnderCover Concealment a few years ago. Other brands have subsequently gotten on board in different ways.
At first glance, they seem soft but not overly soft. It doesn't have a velvety texture. It feels just like regular department store leggings, and if you don't peek at the waistband, you'd never guess they're concealing a firearm.
Certain ladies may prefer a longer leg. Although UnderCover does not provide an ankle-length option, there are "workarounds" for this minor shortcoming. I really like the cropped leg since it will keep the leggings cooler in the summer when worn with flats or sandals.
Not only are these concealed carry leggings comfier than a belly band, but they also eliminated the need for adjustment. Generally, women wear a flowy blouse with leggings. While not all women adhere to these guidelines, if you do, the gun disappears completely.
The leggings include two firearm holsters sewed into the waistline. (You may hide two handguns concurrently if you want.) They are in the front appendix, respectively.
Additionally, there is a small pouch in the front left appendix designed to secure a shorter magazine. It's designed to carry a smaller phone.
Nobody would see it unless they knew it was there and were searching for it. Also, the dressy ones feature a little higher waist than regular leggings. Both fit nicely and don't impact where my weapon sits.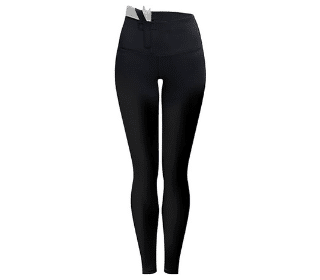 Is anybody really willing to forego their exercise to carry a firearm? Not me! You may buy a pair of these leggings if you haven't already!
What I appreciate most about the ConcealmentClothes leggings is their ability to keep the gun secure. The waistline, detachable holster, and weapon retention strap all work in tandem to make this the most secure exercise-carry solution I've seen.
Due to the tight fit around the waist, the gun remains near the body and is less prone to show through clothes. Indeed, it's so tight that you'll need to grab the belt loops and pull them up over your hips, precisely like you would with boots with bootstraps!
Additionally, the loops are excellent for the range. The ConcealmentClothes concealed carry leggings belt may hold holsters and magazines. Furthermore, the pouch on the outside of each leg is convenient for having a credit card, magazine, or other small items.
The five waistline pockets enable you to carry your pistol almost wherever on your waist. They accommodate firearms ranging in size from tiny compacts to full-sized competition pistols!
So, Which Leggings Are the Best for Concealed Carry?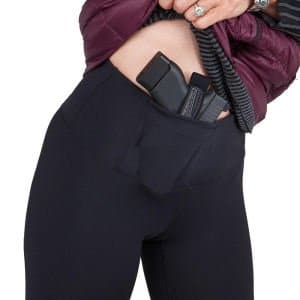 Each pair of leggings has several advantageous characteristics. If I could combine the fabric of the Undertech Undercover with the pockets of ConcealmentClothes, I would have the perfect concealed carry leggings.
Choosing your carry gear is a personal decision that will depend on your lifestyle, but keep in mind that convenience should not come at the expense of safety.
I recommend pairing the Undertech Undercover leggings and ConcealmentClothes with a Kydex holster or trigger guard while wearing them. To protect the trigger, combine it with a clip made especially for fabric, such as the FabriClip or UltiClip, to secure the pistol.
Concealed Carry Leggings – Bottom Line
I would recommend these concealed carry leggings if you walk, run, jog frequently or know someone who does and needs a way to carry on the go…this offers a way to remain safe. Plus, you get enough pockets to hold a pistol, a smaller phone, and identification/cash.
Additionally, it offers boot-cut leggings and ones with zipper pockets. Hopefully, UnderTech will release a blue jean legging soon. That's the one I want!
I'm a girl who loves firearms, sports and achieving goals. I'm a firearms instructor at a shooting range in Fort Worth and have a passion for all things self-defense, personal responsibility, and small government.
Source
Concealed Carry Leggings Review – Keep Your Firearm Secure & Safe – is written by Jerah Hutchins for gunnewsdaily.com