A great item to add to any survival kit is a gas mask.  Gas masks don't take up much room, and can really be beneficial should an emergency concerning air quality should arise. If you are not even interested in prepping and simply require a gas mask for protection during work or home projects, there are plenty of masks to choose from as well.
Either way, if you are in need of a gas mask, let this article be your guide.  Below, we discuss what qualities to look for in a gas mask, as well as give you an overview of some of the best and most popular on the market today.
Best Gas Masks – Buyer's Guide
There are simple gas masks, and there are high-tech, advanced ones.  Most shoppers are looking for something in-between. Either way, there are some key features you should consider no matter what type of gas mask you are interested in.
Gas Masks Protection Level
The first thing you must choose is the amount of protection you want your gas mask to offer. There are a few different protection ratings that gas masks offer.  CBRN masks provide the highest degree of protection against chemical, radioactive, nuclear, and biological agents for an 8 hour period. NBC masks protect against chemical, nuclear, and biological agents, but are not radioactive. There are a few other ratings of importance, so take some time to review what the mask you choose protects against.
Gas Masks Comfort
There is a chance that you will have to wear your gas mask for a long period of time.  If this ends up being the case, you want to make sure that you choose a mask that is comfortable on your head and face for 8 hours at a time. The most comfortable masks have easily adjustable straps so that you can adjust the mask to fit your face specifically. 
Gas Masks Size
The size of the mask you choose is dependent on how much space you have to store them.  You may want masks that are compact and foldable so that you can store them in a smaller space.  Keep in mind that masks like this offer less protection. If space is not an issue, then you may want a mask that is larger, as they are generally a little more protective. 
The 3 Best Gas Masks For 2021:
Here are the three best gas masks for 2021:
One of the most popular gas mask options is the Full Face Organic Vapor, Chemical, and Particulate Respirator. With over 1,000 positive reviews online, this mask provides a lot of protection for around half the cost of some of the bigger masks. This mask is perfect for emergencies or exposure to chemical agents or industrial vapors. 
The edges are sealed with high-quality silicone to ensure an airtight seal with your face. With this purchase, you will receive one PT-100 respirator with two P-A-1 cartridges, a durable breathing valve, and detailed instructions on use.  This mask offers 95% particulate filtration. 
Top Features:
Dual activated charcoal filters

Impact-resistant lens covers the full face

95% particulate filtration
Pros:
One-year manufacturer warranty

No fog air circulation technology

Comfortable and easily adjustable
Cons:
Cannot be worn with glasses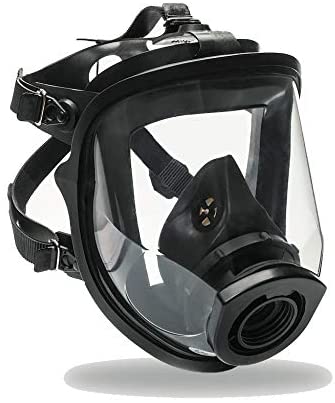 The Survival Kit CBRN Emergency Gear Gas Mask from MIRASAFETY is a top-of-the-line option that offers the highest protection possible. This professional mask provides protection for your whole face by filtering harmful vapors, gasses, and aerosols.
The five-point head harness with self-tightening buckles ensures a perfect fit for any size head, allowing the double seal to form snugly around your face. Once the mask is properly on, you have a wide, panoramic view that allows you to see with no obstacles.
The included speech device amplifies your voice so that you can easily be heard by others. This mask does not come with filters included but is designed to fit 40 mm NATO filters.
Top Features:
CBRN mask offers the highest level of protection

Wide panoramic view

Five-point head harness
Pros:
Double seal

Self-tightening buckles

Incorporated speech device
Cons:
Cannot be worn with glasses

Does not include a filter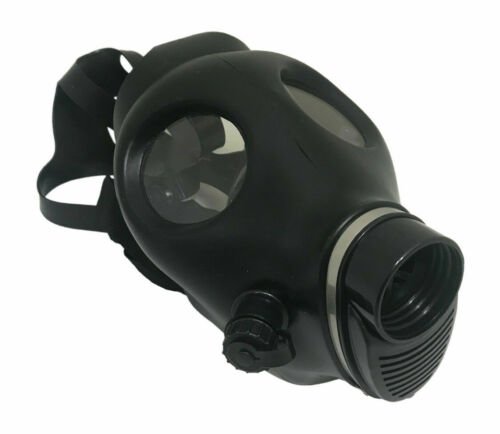 The KYNG Israeli Rubber Respirator Style Mask is a different style than the others on our list.  Instead of a full face shield, the majority of the face is made from rubber with two glass lenses for viewing.  Adjustable straps fit around the back of the head to create a snug and secure seal around the face. 
These straps are made from a durable nylon blend, so they will hold your mask in place firmly. A 40mm charcoal filter is included with the purchase of the KYNG Israeli Rubber Mask. This mask is also one size fits all, so it is a great purchase for both kids and adults. 
Top Features:
Made from high-quality rubber

Creates a tight seal

One year warranty
Pros:
One size fits all

Durable and easily adjustable straps

Comes with a 40mm charcoal filter
Cons:
Lenses are not the highest quality
Final Thoughts
Whether you need a gas mask to prepare for survival, or for protection from fumes or dust due to your job, there are a plethora on the market.  It can be overwhelming sifting through all the different options, especially without detailed knowledge of the different types. 
After reading this article, you should be a little more comfortable choosing the best type of mask for you.  Make sure you find something that meets your safety standards but is also comfortable and easy to put on and remove.
Source
The 3 Best Gas Masks – Prepare for the Worst is written by Nick Oetken for gunnewsdaily.com