Having your truck with you on a hunt can prove beneficial in many different ways. It gets you through the brush and debris to the best hunting spots, and carries all your gear at the same time.  While your truck is fine just how it is, there are a few hunting accessories for trucks that can be added to really enhance your experience and protect your truck from the rough and tough hunting life.
In this article, we discuss a few of the best hunting accessories for your truck. Also, check our buyer's guide for necessary information you need before making a purchase. 
Hunting Accessories For Trucks – Buyer's Guide
Before decking out your truck with all the latest and greatest, think about what exactly you are looking for in hunting accessories. 
Hunting Truck Accessories for Exterior/Interior Protection
When hunting, your truck sees a lot of wear and tear on both the inside and the outside.  If you are concerned about the well-being of your truck as a whole, then you should seriously consider purchasing some interior and exterior protection.  Exterior protection can keep the finish of your truck safe from scratches and dents.  Interior protection, like floor mats or seat covers, keep stains and smells out of your upholstery and off your floors. 
Hunting Truck Accessories for Safety
If you are concerned about injuries or safety while hunting, your truck can hold some accessories that give you the peace of mind you need to enjoy your trip.  First aid kits and emergency safety winches may not be used frequently, but they are accessories that you will be happy to have when they are needed.
Storage
You may find that you want to make some storage additions to your truck for your hunting equipment. There are plenty of sturdy, waterproof storage containers that are made to hold all types of hunting gear. You can find almost anything you need for both interior and exterior storage.
The 4 Best Hunting Accessories For Your Truck
Here are four hunting accessories to consider adding to your truck:
A great accessory for any type of hunting is a weatherproof cargo box for your truck. This particular cargo box is ideal for the back of a pickup.  Users rave that this is truly weatherproof.  Some detail driving four hours in the pouring rain and the contents being completely dry, while another customer describes the box and its contents being safe through an actual tornado.  This cargo box is made from heavy-duty vinyl and has electronically welded seams for ultimate durability. An internal frame keeps the box standing when it's not completely full, while incorporated D-rings allow for a convenient tie-down. 
Top Features:
Watertight and weatherproof

Made from heavy-duty vinyl

19" L x 56" W x 20" H
Pros:
Folds for easy storage when not in use

Internal frame to keep the shape

D-rings for easy tie-down
Cons:
Does not hold shape well when not completely full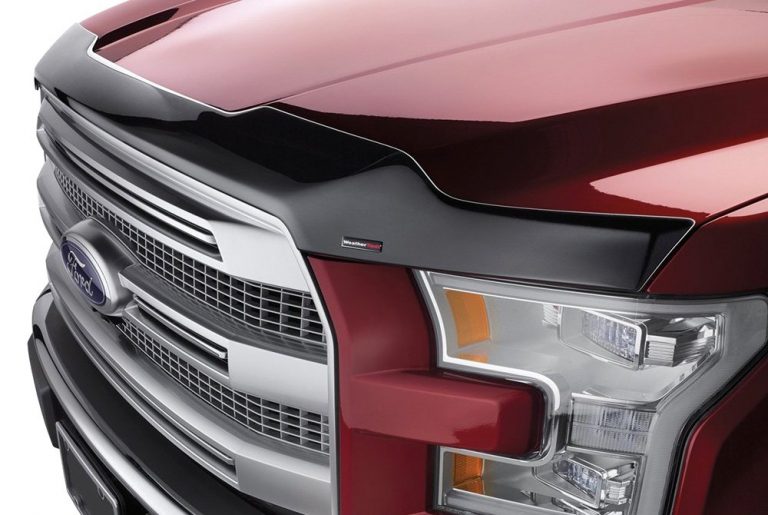 For those who like to get their truck deep in the woods for the best hunting spot, this WeatherTech Hood Protector is a great accessory.  This hood protector is made from a durable acrylic material.  It has a custom fit for your make and model, and, using 3M auto tape, slides right on with no drilling involved. This accessory fits perfectly to your vehicle, creating a sleek and aerodynamic finish.  Once installed, it protects the hood of your car from bugs and scratches from thick debris and brush.  When you're not hunting, it can be easily removed.
Top Features:
Contours perfectly to your vehicle

Sleek and aerodynamic

Shields against bugs and debris
Pros:
Maintains quality and finish of the vehicle

Easy to install and remove

Flexible and durable acrylic material
Cons:
Not available for every make and model of truck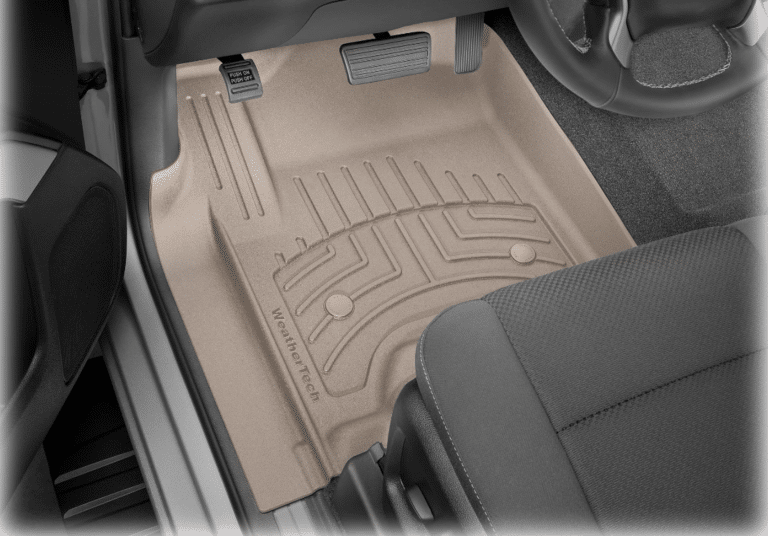 After a muddy hunting day, the last thing you want is to trek dirt onto the floor of your truck. With these WeatherTech High Performance Floor Liners, you don't have to worry about ruining the interior of your car with your muddy boots. When purchasing, you choose the make and model of your car to get a perfectly accurate fit. 
The liners will completely and accurately line up with the floor of your car, and are even raised on the sides to cover the front, back, and sides. A patented High Density Tri-Extruded (HDTE) material is used for a durable and rigid floor liner.  This material also has a texture to it so that surface friction keeps the liner attracted to the carpet.  The surface of each floor liner is uniquely designed to trap fluids and debris.  Anything left on the liner can be easily dumped or sprayed off for cleaning. 
Top Features:
Completely lines front, sides, and back of interior carpet

Digital laser measurements

Advanced surfacing minimizes fluid movement
Pros:
Easy to install and clean

Made from patented HDTE material 

Stay in place while driving 
Cons:
Cannot choose color with your make and model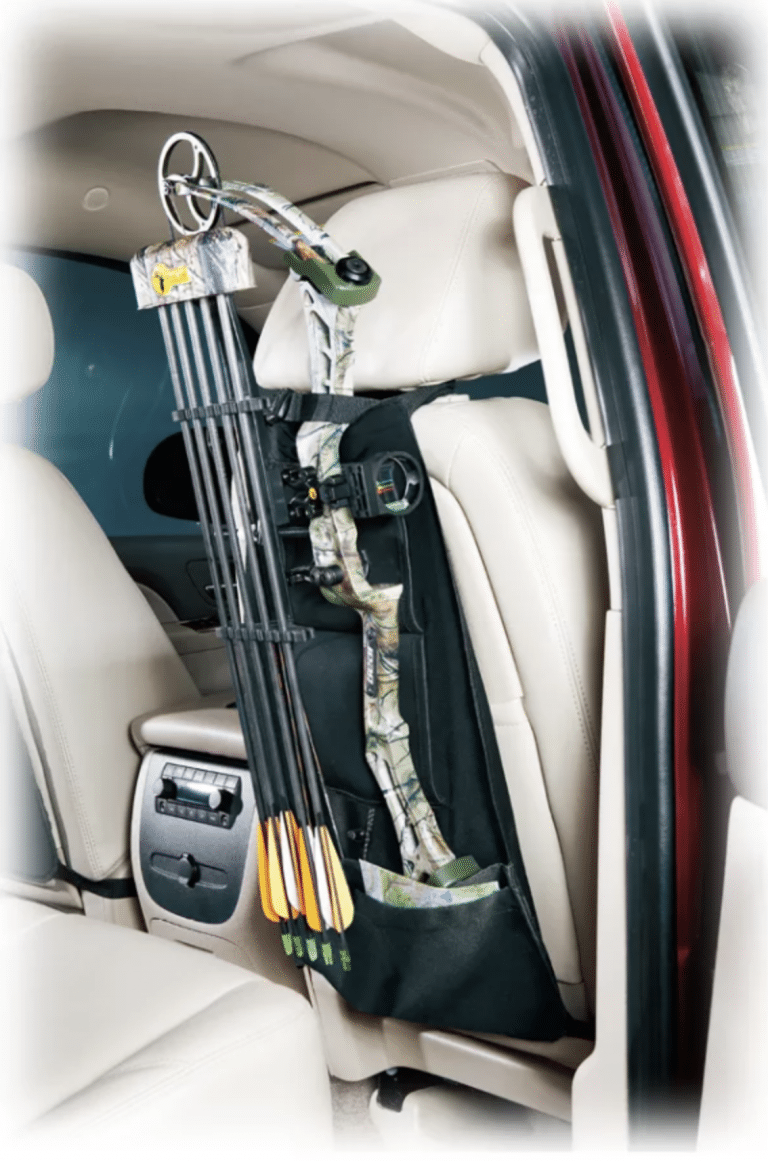 Another great hunting accessory for trucks is this Hunter's TackleBack from Cabela's. This conveniently straps to the back of a truck or SUV seat to give you a safe place to store weapons.  This particular model holds either two rifles, two shotguns, or two compound bows securely on the back of your seat. It is made from a strong and durable 600-denier polyester so that it can survive rough use. Easily adjustable straps allow you to install and remove quickly whenever necessary. In addition to holding your weapons, it also has a rear pocket for extra storage. 
Top Features:
Holds 2 rifles, shotguns, or compound bows

Made from rugged 600-denier polyester

Installs easily to back of truck or SUV seats
Pros:
Inexpensive

Easily adjustable straps

Rear pocket for extra storage
Cons:
Conclusion
The above list is just a small sample of the wide variety of hunting accessories available for your truck.  Not every product will be right for you.  Take some time to explore to see what products fit your particular needs. 
Source
The Top 4 Best Hunting Accessories For Trucks is written by Nick Oetken for gunnewsdaily.com