If you're looking for an optic that provides versatility for a wide range of shooting applications, Low Power Variable Optics (also known as LPVOs) are the way to go. Though not exclusively designed for the AR-15, weapons like the AR have largely driven demand for these types of scopes.
For shooters, their popularity is largely based on the way that they combine the best aspects of a traditional scope and a red dot scope into one package.  With an LPVO, you can not only engage close targets but also increase magnification quickly, easily, and – most importantly – accurately whenever the situation calls for it.
In this article, we'll discuss our top picks for LPVOs (based on a wide variety of criteria), while also spending a bit of time discussing the Pros, Cons, and features of these amazing tools.
Understanding Low Power Variable Optics
Again, LPVOs were primarily designed to combine the best aspects of traditional rifle scopes and red dot scopes into one versatile package. They typically boast a power range of around 1-4, but magnifications such as 1-6x, 1-8x, and even all the way to 10x have been produced as well.
Red Dot Functionality 
One of the big pros of LPVOs is the illuminated reticle. This allows the scope to function more or less like a red dot scope when set on the first focal plane. Also, like red dots, you can acquire the target quickly and shoot quite accurately at short to medium distances. In fact, LPVOs have become the gold standard for shooting competitions all over the world.
Built-in Bullet Drop 
The traditional sight half of the LPVO design can be found in the bullet drop compensators built into most reticles. This allows you to better adjust the point of aim when firing at a distance, drastically increasing accuracy. With a BDC, you can theoretically hit targets at up to 600 yards on the fly.
Better Magnification
As we already mentioned, LPVOs often include magnifications of 6x, 8x, and even 10x. This is a massive improvement over standard red dots, red dots with a magnifier, and even many fixed power optics. Many LPVO designs back up this increased visual power with a built-in range finder, which can help you determine target distance within a split second of making the shot. Some top-end models even include windage holdovers and lead points to increase accuracy further.
Let's Talk Scope Focal Planes – First Focal Plane vs. Second Focal Plane
When purchasing an LPVO, the first thing you need to consider is whether to get a first focal plane or second focal plane design. If you're not familiar with the term, the former (FFP) refers to scopes with a reticle that will increase and decrease in size along with the magnification. On the other hand, SFP designs keep the reticle the exact same size regardless of the magnification level.
FFPs are helpful because they allow you to use the illuminated BDC reticle regardless of the magnification. For a lot of red dot fans, this makes them much more accessible. However, if the illumination is overwhelmed by the sun or glare, finding your target may become more difficult. These scopes may also be more likely to experience parallax issues, where the target and reticle are on different planes within the scope itself.
SFP scopes are preferred by shooters who want to be able to reference the reticle and acquire the target as fast as possible. However, keep in mind that a larger reticle may keep you from properly compensating for bullet drop when you get to high magnification levels.
Remember: LPVOs Are Still Just a Tool
Too many shooters fall into that salesmanship trap where they convince themselves that their new scope will automatically take their accuracy to the next level. This is as untrue as it is for any other sportsmanship tool out there. Remember, if you have a bad slice, a $20 golf club, and a $750 XXIO prime will still result in the same shot. That is, of course, unless you use the features of the latter to help improve your game.
That's what Low Power Variable Optics or LPVOs are designed to do – improve your game.
You'll need to learn how to dial in a good zero, properly employ the optic itself, and become comfortable with how it works before you can expect serious performance. Moreover, if you go for the priciest model on this list, it may come with bells and whistles that will take longer to understand than a budget model. Either way, what you need to be doing is spending more time with the optic (and the manual).
Here are a few things to remember about Low Power Variable Optics LPVOs:
Models with BDC reticles can take more time to calibrate than single-point reticles.
They can be a big change if you're only used to using red dot sights.
You're going to need a lot more room on top of the receiver to place your sight. This will increase weight as well as bulk.
Co-witnessing with your iron sights might become impossible due to the size of the optic. That said, there are quick disconnect lever mounts that you can use to remove the optic if it is damaged or inoperable.
Best Low Power Variable Optics by Category
If the conversation above tells you anything, it's that we all have our own needs when it comes to shooting. So rather than give you a long list of "Cadillac optics," I've attempted to include a variety of LPVOs designed to fit the varying needs of different types of shooters. If you're new to the concept or simply looking for an alternative to what you already have, I hope this list is a big help.
Swarovski is an Austrian company known for making jewelry, watches, and crystal items. However, they've recently taken their penchant for making "crystal clear" products and applied them to the world of optics. The Z6i 1-6×24 2nd Generation not only offers bright, sharp image clarity regardless of magnification, but it is also jam-packed with features.
One example is the internal tilt sensor, which automatically illuminates the reticle when the rifle moves into a shooting position. There is also a smart shut-off feature that perceives whether it is night or day and adjusts the reticle brightness accordingly. If you're looking for visual versatility and you're willing to pay a bit more for it, this is the LPVO for you.

For every shooter seeking the crème de la crème of rifle equipment, there's one who just wants a bare-bones design that they can try out. That's the Monstrum 1-4×24 Alpha Series, our pick for the best budget LPVO. Monstrum has been producing high-quality products at rock bottom prices for years, and the Alpha is no different.
It features excellent quality glass and a fully multi-coated lens, both of which provide crystal clear image quality at all times. The turrets offer a nice, smooth operation, so you can easily dial in windage and holdover on the fly. If that wasn't enough, the focal plane reticle is etched glass – a great feature in the scope of this price.

Another great option for shooters on a budget, the Sig Sauer Sierra3BDX 2.5-8×32 is a super-lightweight and versatile LPVO that can be attached to rifles, shotguns, and even crossbows if you find yourself so inclined. It also offers excellent low image clarity, a high-quality SFP reticle, and MOTAC (motion-activated illumination).
All of that said, the stand-out feature here is the integrated Ballistic Data Xchange (BDX) technology. This allows you to easily sync up your rifle scope and range finder using Bluetooth. Once completed, the system can evaluate environmental conditions and ballistics to provide an illuminated dot for easier aiming.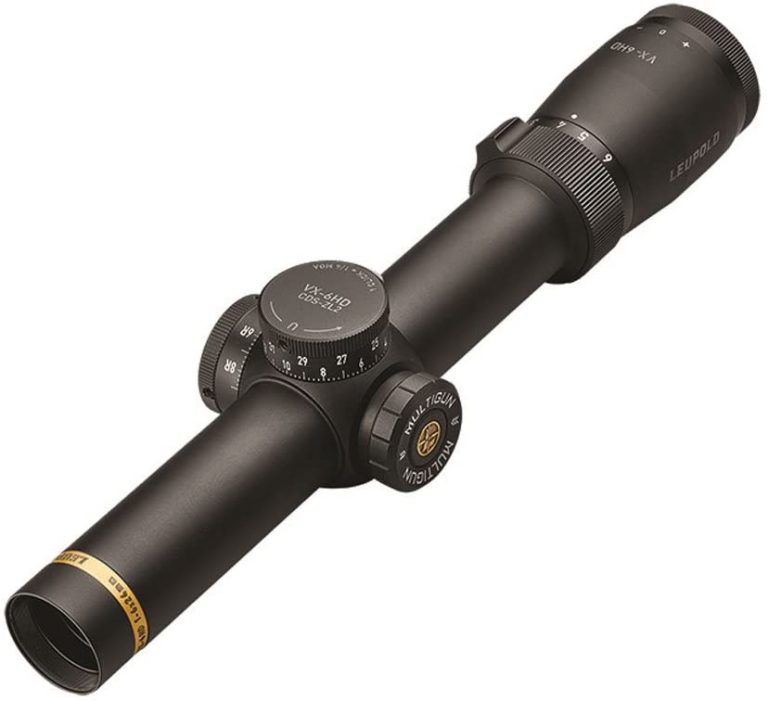 If you still think your budget can take just a bit more, try the Leupold VX-6HD 1-6×42. This company is well-known for putting its equipment through hell before putting them on the market, so you can rest assured that this scope is fog-proof, water-proof, and ready for the harshest real-world conditions.
Of course, the scope offers excellent image clarity and brightness as well. It also features Leupold's patented "twilight management system," which allows the scope to deliver ultra-bright image quality regardless of environmental light conditions.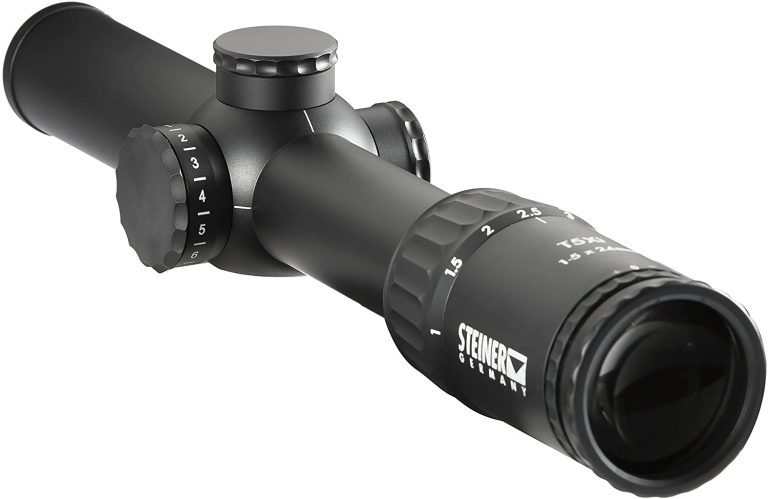 If you have a hefty wallet but can't quite justify the Swarovski, the T-Series Tactical 1-5×24 might be the choice for you. Most shooters are already well aware of the amount of quality packed into these pricy little beauties, and the T-series is no exception. It's also one of the few scopes calibrated specifically for 7.62 NATO, so M1A users should be sure to take notice.
Steiner grinds and polishes all of its lenses in-house. Applying layer after layer of custom coatings to increase contrast, detail, and clarity. There is a simple throw lever for fast changes in magnification. As well as a second rotation indicator designed to help you manage your adjustments more easily. It also includes the company's Special Competition Reticle, a glass-etched reticle with 1-2 mill holdover, 1-10 mill ranging brackets, and 2-10 mill windage built-in.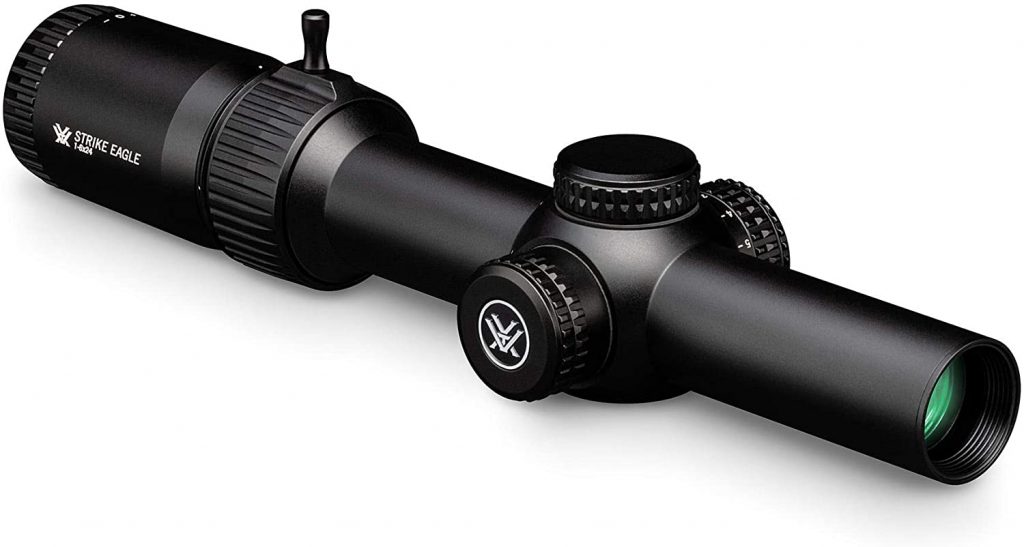 Another budget-priced scope that still delivers when it comes to performance. The Vortex Optics 1-6×24 Strike Eagle has to be seen to be believed. It provides excellent image quality, with multi-coated lenses, extra-low dispersion glass, and other features you'd expect to find on a much more expensive scope.
What makes this LPVO so unique is its fully illuminated, glass-etched SPF reticle. Which boasts BDC marks that perform excellently at 6x mag, making it an excellent add-on to a standard AR. The housing is also made from a solid piece of aircraft aluminum to increase durability.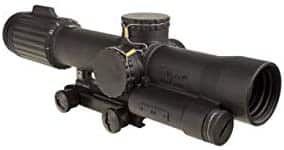 Looking to maximize your magnification? You want the Trijicon VCOG Riflescope. This is a no-BS LPVO that is ready for anything. The VCOG stands for  Variable Combat Optical Gunsight and is designed to perform in a variety of tactical scenarios.
It features a highly visible LED reticle that can be customized with either MOA BDC or MRAD markings. As well as windage markings. It is also built "Ford-tough," boasting a frame made out of virtually indestructible 7075-T6 aircraft aluminum.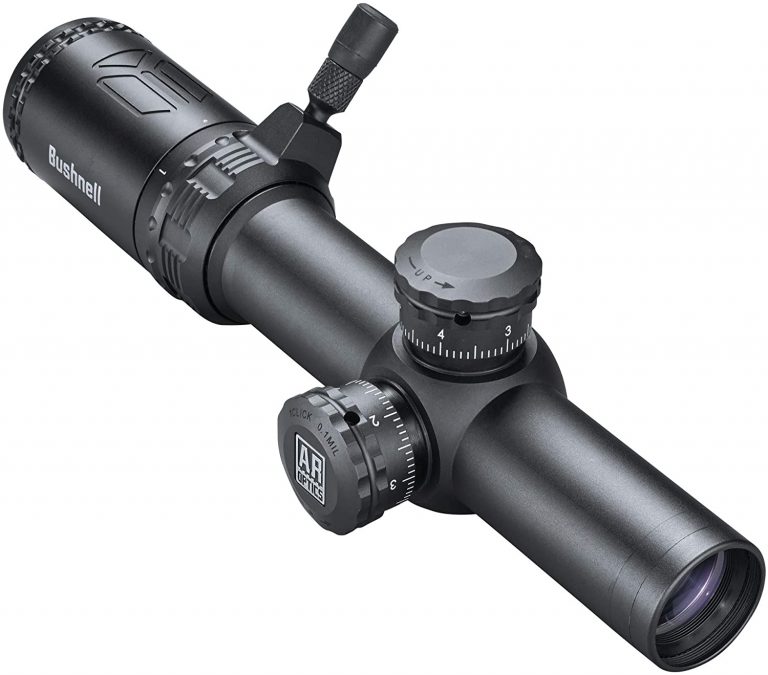 The AR-15 is America's favorite rifle, and the Bushnell Drop Zone 1-4×24 Riflescope is specially calibrated to .22 ammo specifications. All air / glass surfaces feature plenty of anti-reflective coating to ensure you get a bright, high-contrast image regardless of the magnification setting.
The scope also boasts target-style exposed turrets so that you can easily make adjustments for elevation, windage, etc. To prevent against parallax errors, there is an adjustment dial on the side that helps you focus on the fly no matter the setting.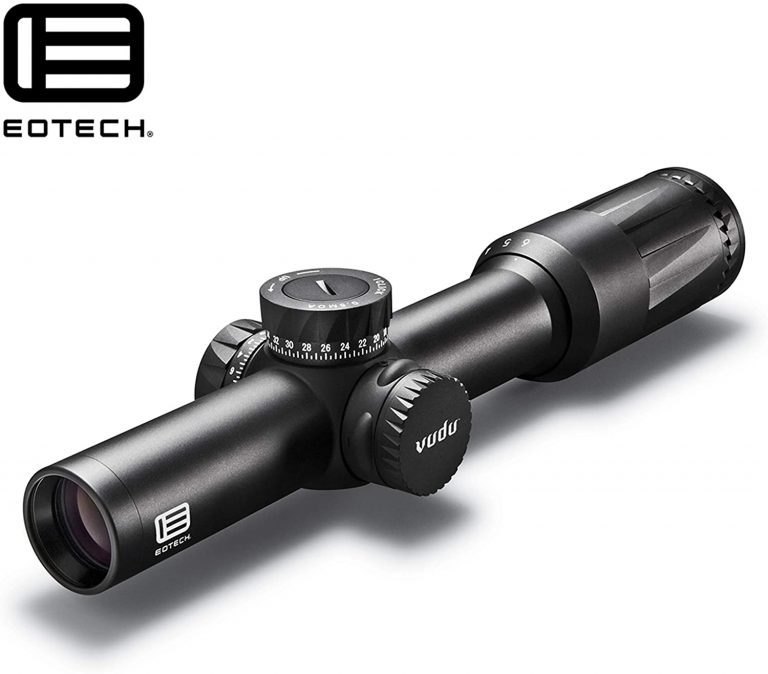 If you're into the exciting sport of 3 Gun, the EOTech Vudu 1-6×24 Riflescope is the optic for you. Among its many features are the company's speed ring reticle. Which allows for the ultra-fast acquisition of targets at close range, and maximum accuracy at 6x magnification.
The scope features XC high-density glass that is perfectly optimized for light transmission. This results in a bright, clear image regardless of the environmental light conditions. The Vudu is an FFP scope, but it also has an illuminated reticle to give you loads of security no matter the situation.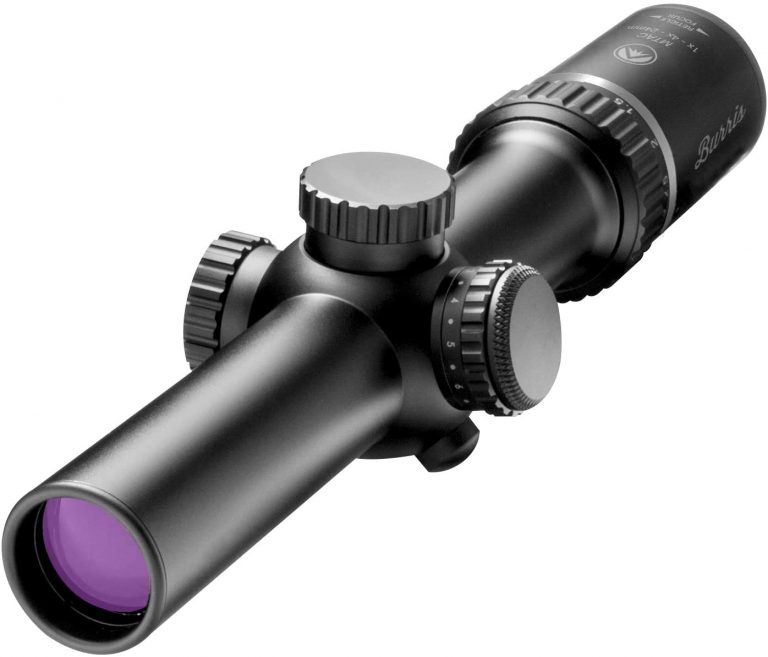 The Burris MTAC is a low-priced LPVO that offers all-around great performance. It's great for 3 Gun and for hunting. Boasting a durable outer tube that can withstand vibrations from even the biggest caliber rifles. It also boasts adjustable MRAD target knobs. Great for fast acquisition at any distance and an ergonomic power ring so you can make changes on the fly.
Low Power Variable Optics LPVOs – Conclusion
Low Power Variable Optics are highly versatile, but that doesn't mean that they're all the same. Depending on what kind of shooter you are. You may want a completely different set of features when you attach your scope to your rifle.
Hopefully, the above reviews have given you enough data to make an informed choice for your next LPVO. Just remember, even the best tool can only help you so much. In the end, it's a practice that makes perfect.
Source
Top 10 Low Power Variable Optics – aka – LPVOs is written by Alex Joseph for gunnewsdaily.com