Put simply: Prism scopes are fixed magnification optics that use a prism (a geometric shape with congruent, parallel bases) instead of two ocular lenses. If you're having trouble picturing what a prism is, just picture a 3D drawing of a rectangle or box. That's a prism, and it's a powerful tool in the right hands. Though prism scopes have been around for quite some time, they've been getting a lot of buzz as of late. If you're curious about prism scopes or are even ready to make a purchase, this article will be a great primer as to what these scopes are, what they can (and can't) do, and which one might be right for you.
The Pros & Cons of Prism Scopes 
As with any scope design, you can't expect prism scopes to change your entire shooting game. Even with all of our modern technology, we're yet to develop a scope that can turn a sub-par shooter into Annie Oakley. Moreover, I want you to know that you're not likely to replace your traditional long-range optics with a prism model. Still, prism scopes do have their uses. Let's take a look at what they are:
Pros
Typically offer low levels of magnification
Don't feature moving optical parts, which increases durability
Most feature illuminated reticles
Don't require batteries, as the reticle is etched into the glass itself
Ideal for shooters who have astigmatism
Typically boast a smaller profile than a traditional scope
If you ask me what I'd use a prism scope for, my first answer would be a battlesight. After all, these babies are flexible enough to quickly adjust between short, medium, and long-range, which makes them ideal for a variety of situations. The ability to correct astigmatism is also a big plus, as shooters with this condition often see red dots sights with blurs, smears, and even duplicate images.
Cons
Limited magnification (usually 5x max)
Harder on the eyes than other scopes
Illuminated reticles aren't always bright enough
More subject to parallax than red dots
Much heavier than red dot sights
Higher price point (almost as high as LPVOs)
Cost is a big sticking point for any shooter, especially considering that virtually nobody has just one rifle. Though the limitations listed above aren't the end of the world, they are a deal-breaker for some people, so they're definitely worth noting.
Our Picks for the Best Prism Scopes & Optics
We "test drove" some of the top-rated prism optics out there to see how they stacked up against one another. As always, we tried to cover a lot of different makes, models, and price points here, so I hope that you'll get as much out of our review as we did. Let's get started.
The Vortex Spitfire 3x boasts five different levels of red and green illumination. The reticle has BDC (bullet drop compensation) hash marks going out 1500 feet and slanted rail segments set at 45 degrees on either side of the optic. The latter is removable if you find you don't like them, but I'm personally a fan of the additional framing.
Like most of the prism scopes on this list, I found the illumination level of the reticle to be quite overwhelming. It's dialed in at 3x magnification, which is helpful, but sort of locks you out of any super long-range shots. The glass quality here is magnificent, however, offering you a crystal clear view in virtually any situation. It's the reticle that seems most likely to be lost in the bright glare.
The Spitfire has wire cable tethering to power the turret adjustment caps, which unfortunately can be problematic when high amounts of dirt and dust are present. Though not a deal-breaker per se, it can slow down the zeroing process. At the highest power setting, you'll get about 250 hours out of the battery. When on the lowest setting, that goes up to about 3,000 hours.
The overall construction is solid, and I'm pretty happy with the magnification set where it is. Though pricy, it's one of the best prism scopes I've tried out thus far.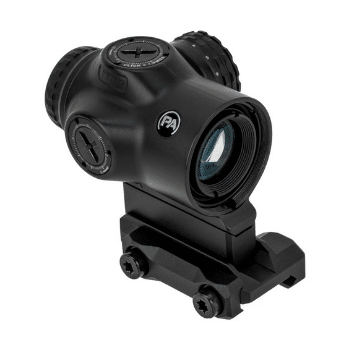 The issue with the ACSS Cyclops is that I sort of question whether or not any shooter would want a 1x magnification scope unless they had astigmatism. After all, 1x mag red dots are more reliable, more visible in bright light scenarios, and – in my option – just better.
All of that said, the build quality of this scope is extremely high. It looks good, feels, and includes steel cable-protected controls for the windage and elevation adjustment turrets. The reticle here is the Primary Arm's signature, the ACSS. This includes a chevron tip in the center, a shotgun spread, and several distance hashes as well.
That said, it's a bit strange that this 1x mag scope still forces you to find a perfect line of sight to set up your shot. This is typically only reserved for magnification, so why it's present here, I have no idea. Still, the biggest issue is the lack of illumination on the reticle. Even on the highest setting, it all but disappears in bright light.
Again, this is pretty much a red dot alternative for people who suffer from astigmatism. Other than that, there's virtually no reason to get a 1x mag sight that's deliberately harder to use and see.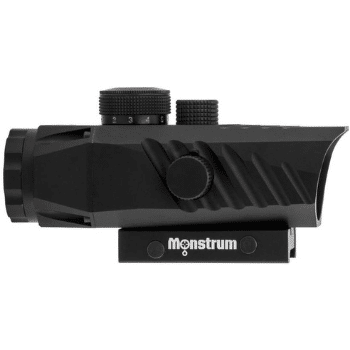 Cost-wise, function-wise, and design-wise, this is the perfect entry-level prism optic. With its 2x magnification, there is a lot more reason to buy this little beauty than the Cyclops listed above. There is also a 3x mag version if you're interested in beefing up your long-distance abilities.
The reticle is a no-frills bullseye design, which is not ideal, but not a complete deal-breaker at this magnification level. What I do like about it is that the design of the mount itself is very low profile. However, if you were to put it on an AR-15, you might get some of your hand or forward rail in the field of view. Since there are no bullet drop hashes, this is an acceptable omission. That said, this means you won't be able to co-witness with your iron sights.
The basic reticle illumination is black, but there are red and green options with five different brightness settings. Unfortunately, as with most of the prisms on this list, you're not going to see much of anything in bright conditions.  The glass is of pretty good quality (especially at this price point), but you can find a blemish here and there if you really look.
While I still believe this is great for beginners, I do want to point out that the windage and elevation turrets are reversed on some models. It's likely just a QC mistake, but it's sure to confuse the heck out of a lot of first-time shooters.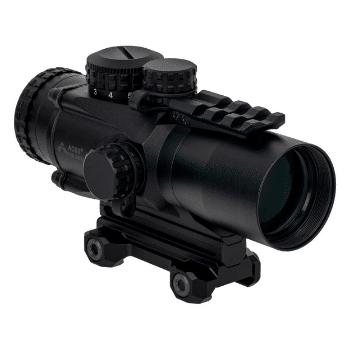 Let's go back to Primary Arms' for a few minutes. In particular, I want to talk about the SLx 3x Prism scope. Though very similar to the Spitfire above, it features a few factors that make it superior overall. One example is the ACSS reticle, which includes BDC calculations for up to 600 meters as well as hold marks for engaging moving targets in high wind.
I highly recommend this scope for rifles firing 5.56, .308, and 5.45×39. I love the removable spacer built into the mount because it gives you the chance to make sure you get a comfortable cheek weld. You can also remove the height adjustment between the optic and mount on some guns.
But the biggest selling point here? Actual illumination. On the highest setting, the reticle is nice and bright in high sun, an effect that is obviously maximized indoors. Rather than steel wires, the adjustment turret caps are held in place by a rubber polymer piece, which I feel is the better option. At roughly $300, this is the best option for shooters with a lower price point.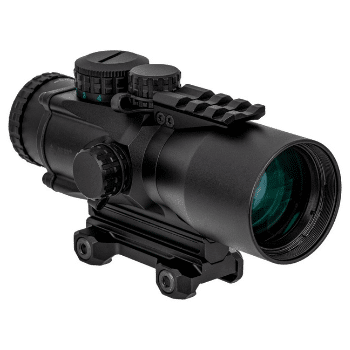 This will be a short review, as most of what I just discussed for the SLx 3 will transfer over to the SLx 5. Obviously, the main difference here is magnification. While the design will largely remain the same, the lens will have a slightly larger profile to support the extra range. There is also a new ACSS horseshoe reticle, which is easy to see in pretty much all light conditions. However, you now have the option only to adjust the illumination of the horseshow itself, which is a nice touch.
If you want just a little bit more range than the SLx 3 will offer you, you can get your hands on this little beauty for just a few bucks more.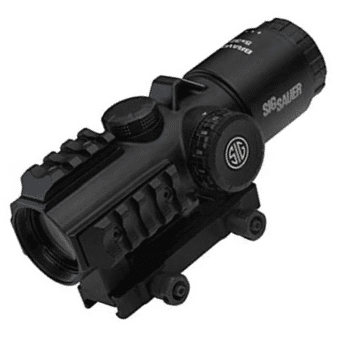 Leave it to Sig Sauer to come up with a truly impressive prism scope. The field of view of this baby is huge – about 40% larger than the other prism optics on this list. This design, of course, reduces your chances of losing the target, which is vital at 5x magnification.
The Bravo 5 is made of exceptional quality glass, with a horseshoe reticle that includes windage hash marks and BD markings out to 800m. The optics are also nice and bright, with eight full levels of adjustment controlled by a single red illumination knob. There are even three levels of brightness reserved just for night vision.
The mounting system here is far more intuitive than what you'll find on most scopes, with Picatinny rail segments at the 3, 9, and 12 o'clock positions. This means you can pretty much strap this sucker to anything that shoots. The Bravo also boasts a slightly higher profile, so you can enjoy that large field of vision without completely losing touch with your rifle. It's a heavy scope, though, so be prepared to get a workout the next time you go shooting.
At around $400, this is by no means a "Cadillac scope." However, it is pricier than most of the Prism scopes out there. Still, with its high-quality optics and superior performance, there's little reason not to make the extra investment.
Prism Scopes – In Conclusion
As you can see, there is a little something for everyone in the prism scope market. Whether you're looking for high magnification, a better price, or just something to play around with, there's a scope on this list for you.
However, if cost is not something you particularly care about, I need to tell you that the Trijicon ACOGs are pretty much top-of-the-line when it comes to prism scopes. Still, with a price tag of around $1400, I'd rather give them their own review than shoe-horn them in with the affordable options above.
Source
What They Are, What They Do, 6 of the Very Best – is written by Will Ellis for gunnewsdaily.com