Ladder stands can be very useful for hunting deer, hogs and other game. They give you an excellent vantage point when on the hunt. However, they aren't best for new grounds, since they are very heavy. Once you set them up, they are difficult to relocate. We got you covered with articles on some great sleds and carts to move them. However, lets now focus on the best ladder stand for your hunting experience. 
What to Look for When Buying a Ladder Stand?
Firstly, you need to make sure that the best ladder stand you are choosing is ideal for the type of hunting you intend to do, for instance, if you are going to use a bow, you need a ladder stand without rails so that you can easily use your longbows. In the case of rifle hunting, a rail can be very useful to aim. 
Concealability is also important. Ladder stands can be quite big, and if you aren't concealed, they can spook the deer. Therefore, look for something in a color that blends in instead of sticking out. The material quality is also an important factor, and its finish as well, since it can determine how long the ladder stand lasts. 
So, here are some of the best ladder stands and their accessories that you can find in the market. 
Best Ladder Stand for Deer Hunting
Millennium treestands L110 is known for making some of the best ladder stands in the market with its commitment to providing hunters with safety and comfort. It engineers all its ladders to be the quietest and most reliable ladders you will ever find. 
The L110 ladder stand is one of millennium treestands' flagship single-seat ladder stands and provides you with everything that you expect from an ideal ladder stand. It provides hunters with the utmost comfort with its ComfortMax seat, padded shooting rail, and folding footrest. 
As far as safety goes, this ladder stand has one of the safest ascending and descending mechanisms with a 35-foot long rope with a Prusik knot and carabiner that assist hunters to ascend and descend from the ladder stand easily and safely.
L110 is a double rigged ladder stand with adjustable height from 8 ft to 21 ft which allows you to find the perfect view. Whether you are a bow hunter or a gun hunter, this ladder stand will provide you comfort from dawn to dusk. Its durable steel construction features a powder coat finish which prevents wear and tears in the long run. 
The ladder stand weighs 92 pounds and can hold up to 300 hundred pounds of weight. plus the 20-inches wide seat provides enough room for hunters of all sizes to feel comfortable all day long. 
Two Man Ladder Stand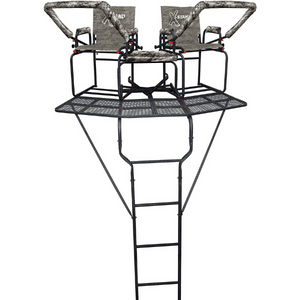 When it comes to two-person ladder stands, X-stand treestands take the lead overall to its competitors. The comrade X is the best ladder stand-by X-stand treestands and includes the brand's patented jaw safety system that allows the hunters to completely secure their ladder from the ground without having to climb up. This makes it one of the safest two-person ladder stands on the market. 
It has a curved platform, supporting two seats that measure 73 inches wide by 18 inches deep. Each comfort flex seat is 19 inches wide and is separated by a small table in the middle. Moreover, each seat has its own padded and fully adjustable shooting rim. 
The Comrade X comes with stealth silencers placed all over the stand that prevent any metal-to-metal contact, reducing the noise and making for a much quieter seat. The stand is also covered with a weather defender powder coat which helps prevent wear because of intense weather conditions. 
Extra Wide Ladder Stand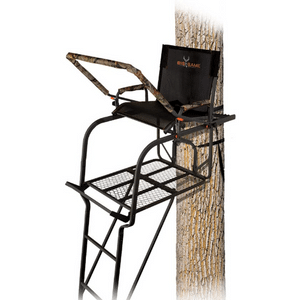 Big Game is known for offering high-quality and durable ladder stands at an affordable price. The Hunter HD 1.5 treestand is not your typical ladder stand. It is a lot taller and much wider which not only provides you with a better view, it also ensures maximum comfort for the hunter. 
It is 18.5 inches at the rail which makes it taller than most ladder stands on the market. Its foot platform is also much wider than a typical ladder stand with a width of 23.5 inches. The platform has a flex-tek seat that flips up to give you more room and enhanced comfort. 
The soothing rail is padded all around and is removable to make the ladder suitable for bow hunting. Moreover, the footrest can hold up to 350 pounds of weight, which makes it suitable for people of all sizes. It also comes with a 4 point safety harness which provides added safety while climbing the ladder. 
Ladder Stand w Blind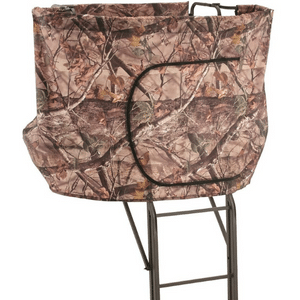 Guide Gear has poured a lot of work into making top-notch ladder stands that help the hunters get to the top of their game. Guide Gear 2-Man Double Rail Ladder Tree Stand is a 20 feet long, double-railed ladder which makes it a lot taller than a typical hunting ladder stand. plus the double-railed design makes it much sturdier and durable. 
One of the most unique features of this ladder stand is the padded shooting rail that unfolds to make a wrap-around blind with a door. The platform is 55 x 14 inches with a comfortable 36 inches wide seat that comes with a backrest cushion. It also has two ratchet straps to make the ladder more stable and ensure the hunter's safety. 
Best ladder stand for bowhunting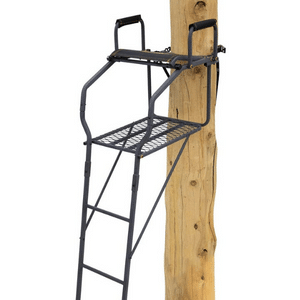 When it comes to ladder treestands for bowhunting, Rivers Edge Bowman 1-Man Ladder Stand is one of the best options in the market. With an archer-friendly design, the Bowman 1-Man ladder stand provides archers with the utmost comfort and safety.
It is quite tall which allows you to hunt from close ranges without spooking the animal. You can also hide your silhouette if you sit tight to the tree. The bowman 1-Man ladder stand features a flip-up tier, tough mesh seating on a 26-inch deep platform that provides you with a lot of extra room to take your shots standing up. 
If you are in the market for a bowhunting ladder stand you don't have to look any further, the Bowman 1-man ladder is perfect for you. 
Ladder Stand Accessories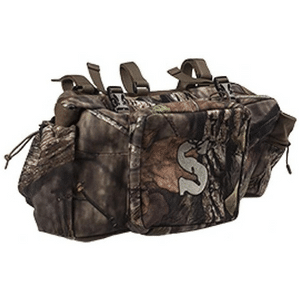 Whenever you are on your tree stand, you feel like you need more storage space. You need somewhere to put your grunt call, your pack rack, or your hand warmers. If you feel this way, Summit Deluxe Front Storage Bag is here to solve all your problems. 
It easily fits on any ladder stand that comes with a shooting rail. it fits right onto the shooting rail and you won't even know it's there. Moreover, with the Summit Deluxe Front Storage Bag, you don't even have to carry a backpack with you, this back will take care of all your storage problems alone. 
 Summit Deluxe Front Storage Bag is also Compatible with most of the commercially available ladder stands. It also has External Drawstring and zipper pockets and is lined with PVC to provide weather resistance.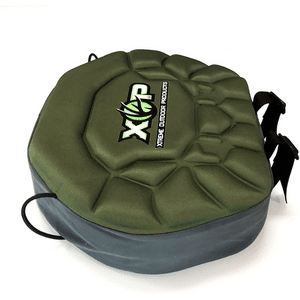 XOP is known for producing some of the highest quality hunting products on the market. With a commitment to constantly evolving and incorporating new ideas into their designs. The New Deluxe Hang-On Treestand Seat Cushion is an example of what XOP has to offer.  
One of the biggest problems when it comes to treestands is the seats. They can get really uncomfortable when you have to sit on them for a few hours without a break. New Deluxe Hang-On Treestand Seat Cushion gives you that extra layer of cushioning to make things more comfortable for you. It also comes with elastic straps that allow you to flip it over when you stand up or lean against the tree. 
The XOP comes with a Tri-layered closed-cell foam that maintains the shape of the cushion and provides lasting comfort. It also uses water-resistant fabric that prevents water or sweat damage.
Source
Best Ladder Stand – Review the Best Ways to Hunt From Above! – is written by for gunnewsdaily.com