Several of you have been asking the question "What do you recommend for carry?" 
Well, that's kind of a big question, and it has a lot of answers.
Choosing a CCW gun is an intensely personal decision and all we can really do is advise you on what to look for in your carry gun, and talk about what we ourselves carry.
Which is what we're going to do today.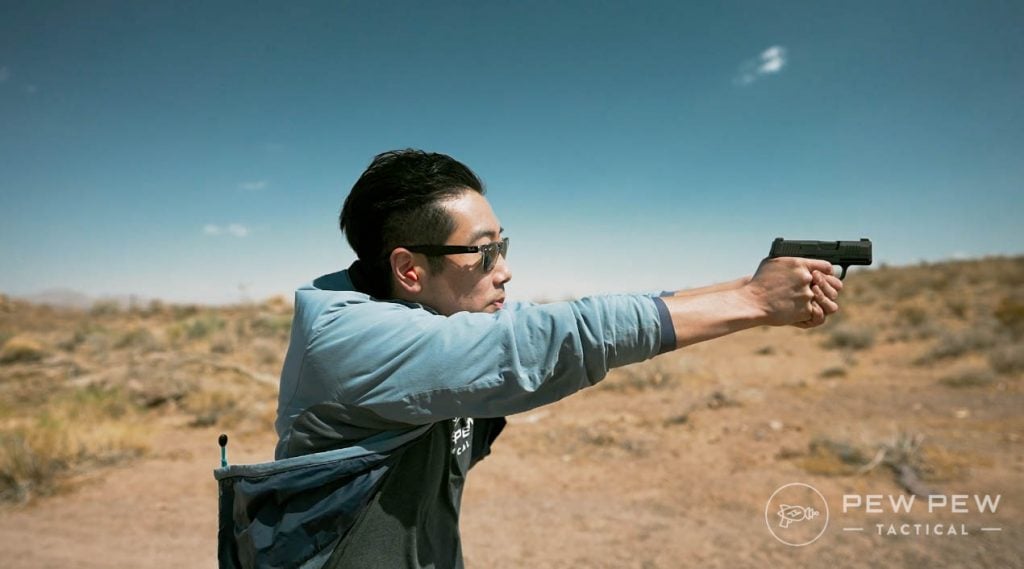 We rounded up the guns and gear that our staff — both editors and some of our writers — use on the daily when carrying concealed.
Table of Contents
Loading…
Note: This isn't all the writers, but we'll be updating in waves so be sure to check back in for more of our personal carry choices.
Eric Hung, PPT Founder
I have two carry guns depending on what I'm wearing.
Sig Sauer P365 XL
My go-to 12+1 9mm carry gun is the P365 XL which gives me the perfect amount of grip and a slightly extended sight radius.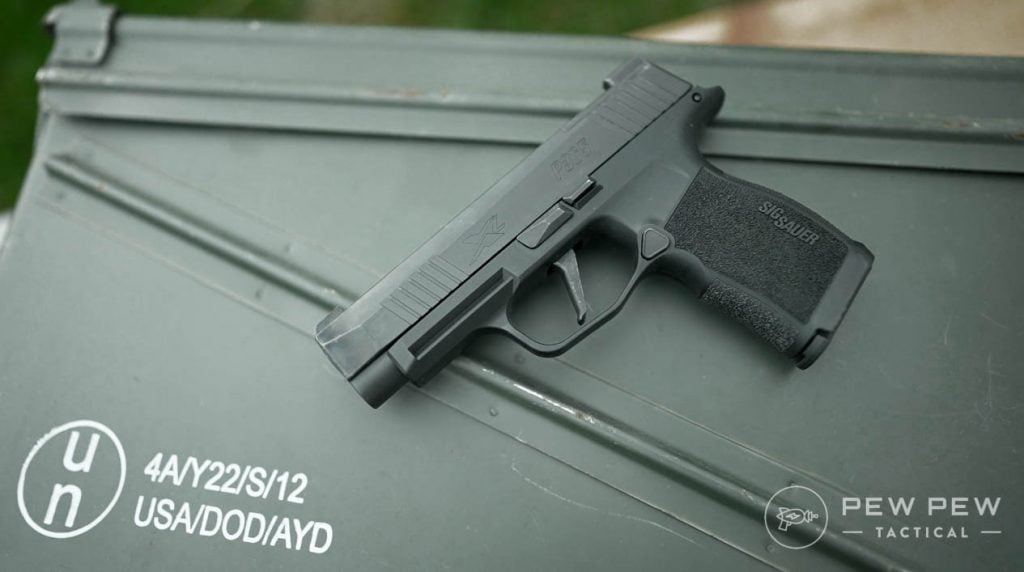 Plus with the XL version, I get the flat trigger which feels slightly better than the original.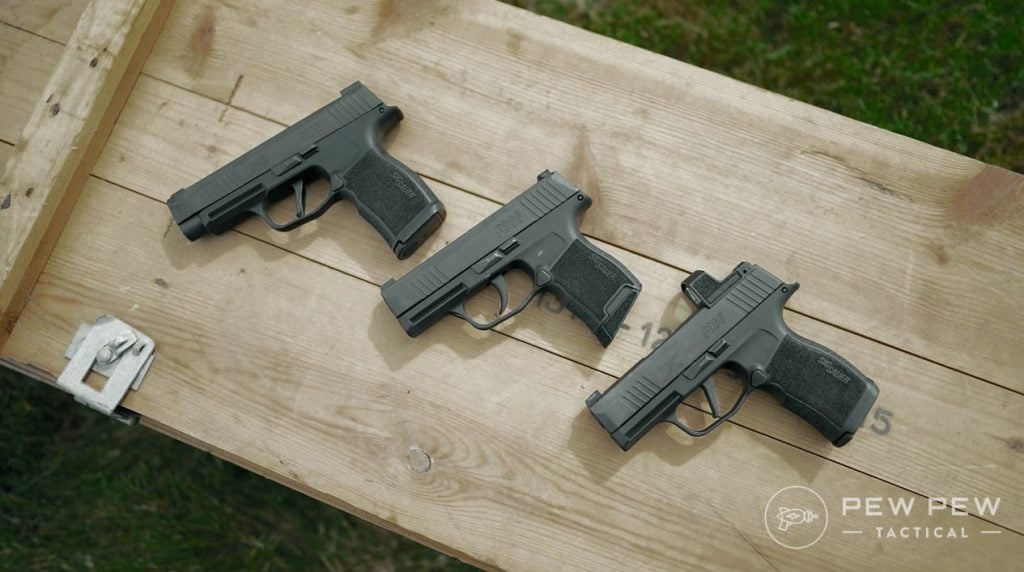 How about holster? We're up to our eyeballs with holsters and every writer probably has a dedicated "holster drawer" in their house.
But I go with Hidden Hybrid Holsters for their comfort. Like in the name…it's a hybrid holster of a leather backer and Kydex shell.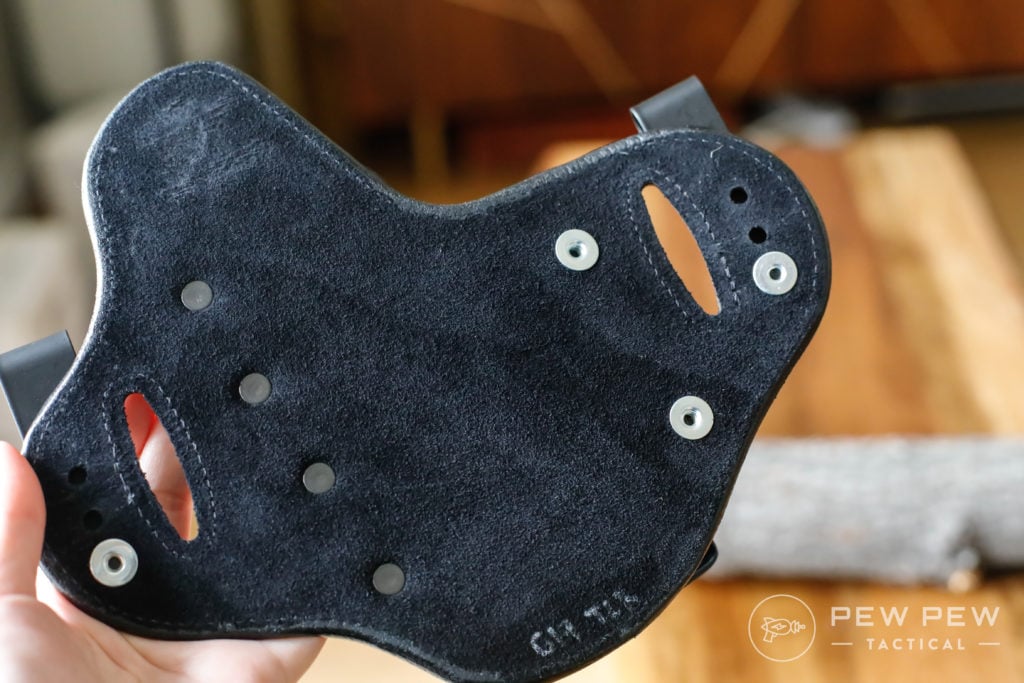 The best of both worlds in my opinion. See my full review here.
It's not too heavy but I still prefer wearing a sturdy gun belt built for the purpose. And so I use my Kore Essentials that easily supports it.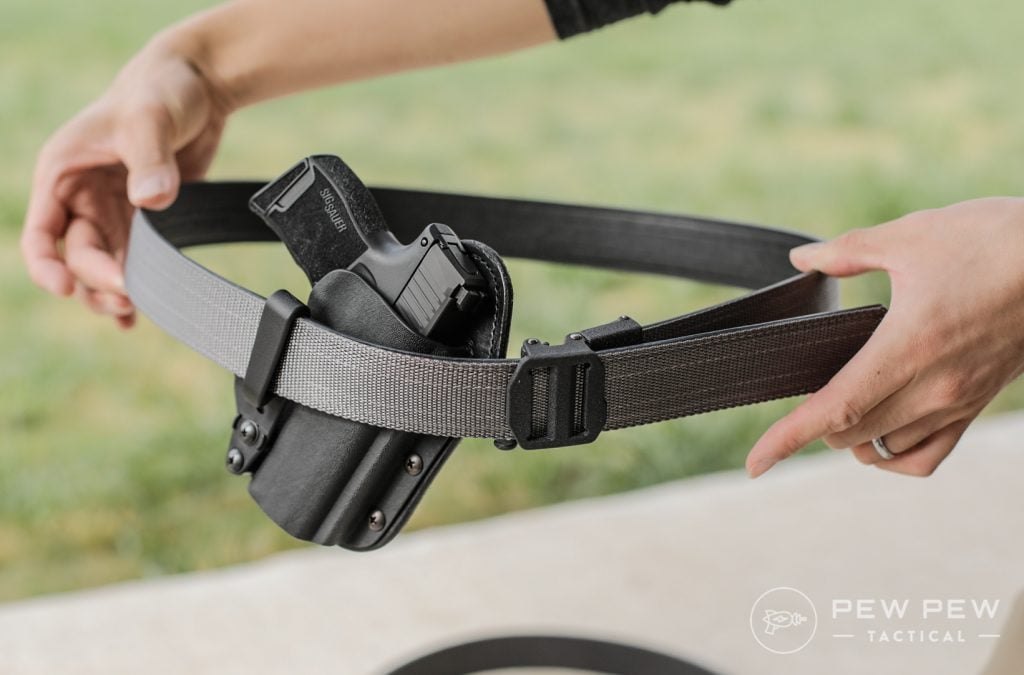 Plus with the benefit of easy re-sizing if I'm sitting down for extended amounts of time.
Check my full review of it here.
Ruger LCP Max
How about when I want to wear some athletic wear? Or simply don't want to put on a belt?
I go for my Ruger LCP Max…10+1 rounds of .380 that still packs a punch.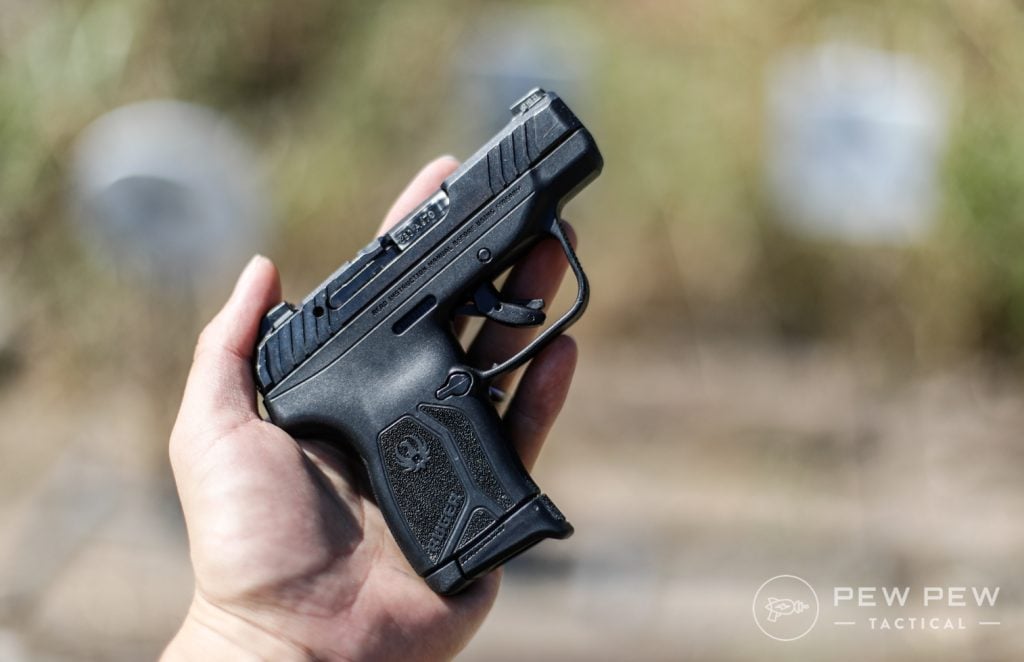 Unloaded it's about the weight of a big iPhone. And even loaded and in a Hidden Hybrid Holster it feels like nothing at all.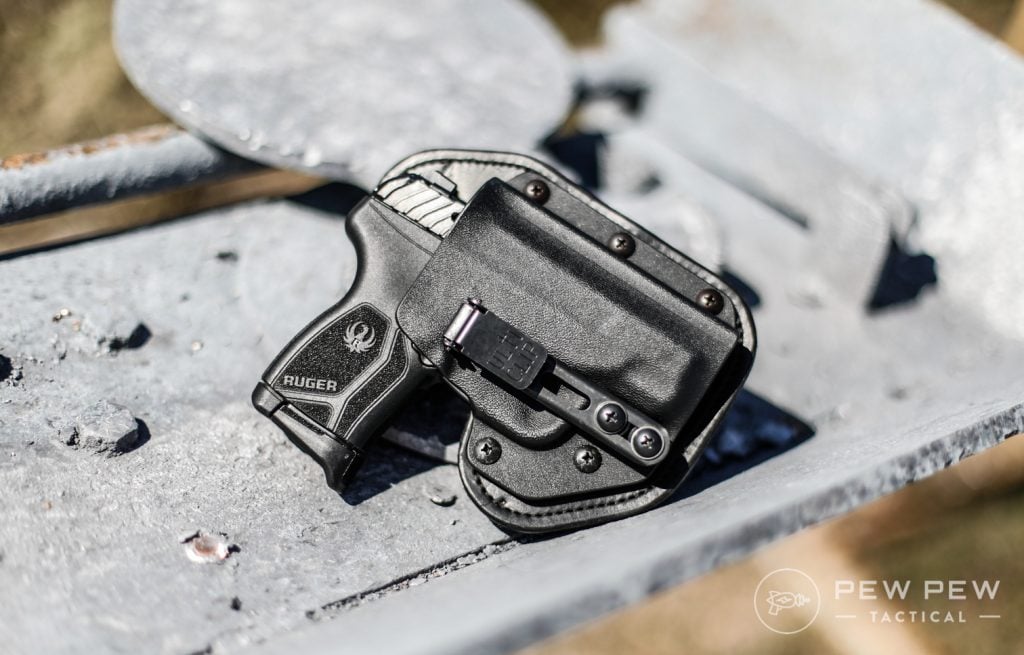 Note…I got the Ulticlip option that sturdily clips onto athletic pants without the need for a belt. I tested it out with my shorts/joggers and even with full running, nothing gets dislodged.
Jacki Billings, PPT Managing Editor
Shadow Systems MR920
My everyday carry is a Shadow Systems MR920 — which is, essentially, a bougie Glock 19 clone.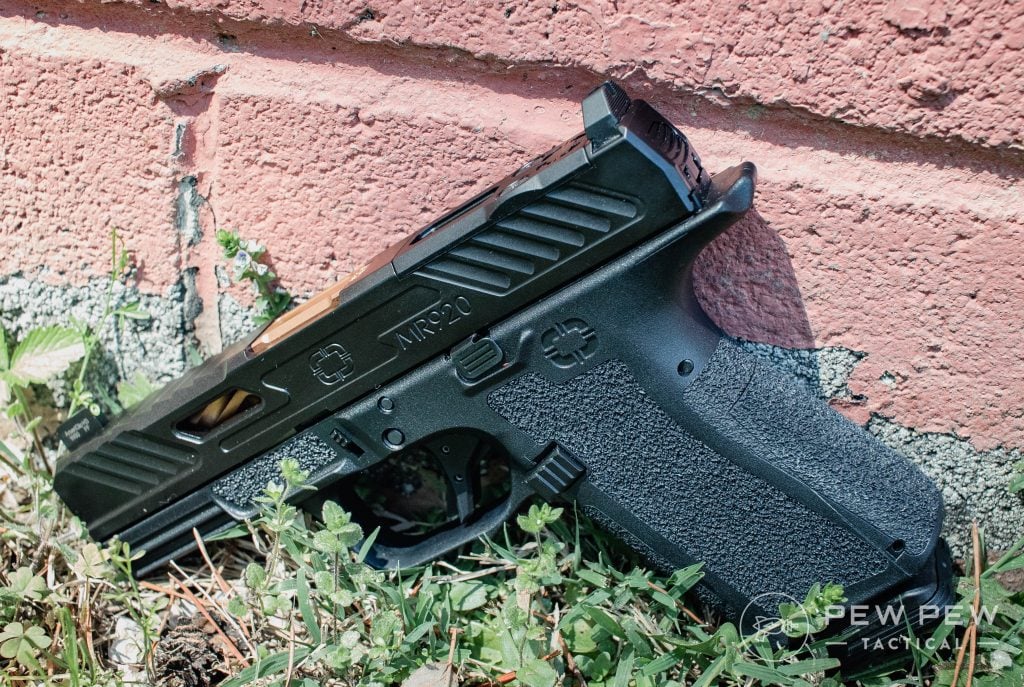 I love the MR920 because it comes with interchangeable backstraps that accommodate my small palms but long fingers.
Additionally, I adore the enhanced beavertail and optics cut slide. 
The MR920 nestles inside a Dark Star Gear Orion holster fitted with a Dark Wing attachment in the AIWB position.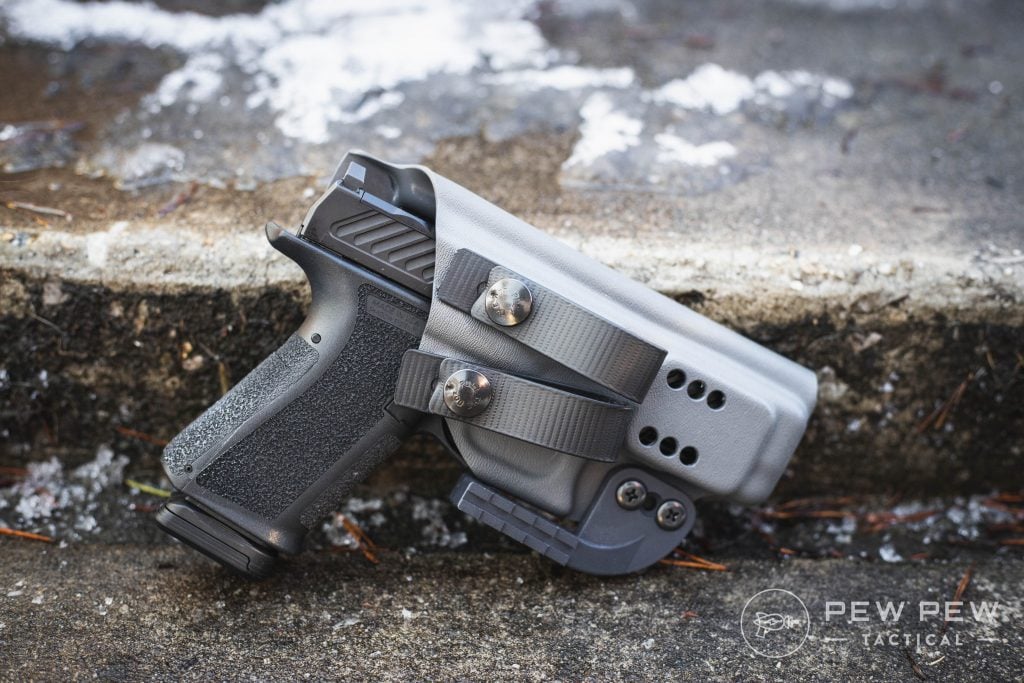 Belt-wise, I rotate between a NexBelt and a Volund Gearworks Atlas. 
As a petite, female CCWer, flatter, nylon belts work best to help me conceal that larger MR920.
Not to mention, nylon belts feel more comfortable around my hip bones.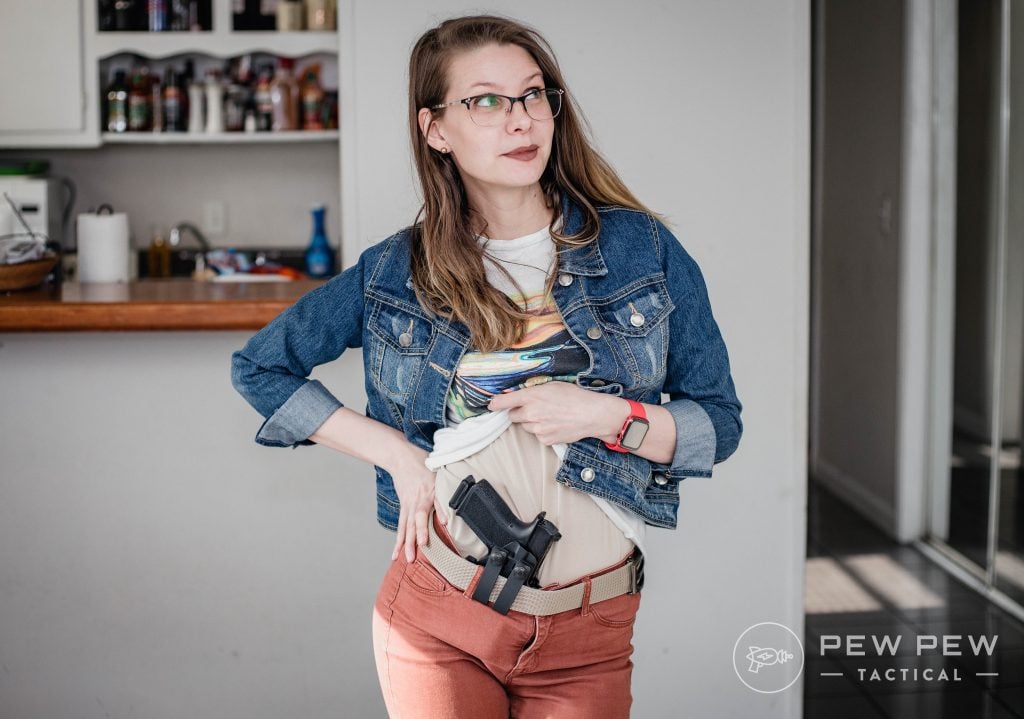 Sig Sauer P238
As a lady, sometimes I wear pants without belt loops or full-on dresses/skirts.
This type of wear doesn't pair with a mid-size gun like the MR920, so I step down to a Sig Sauer P238.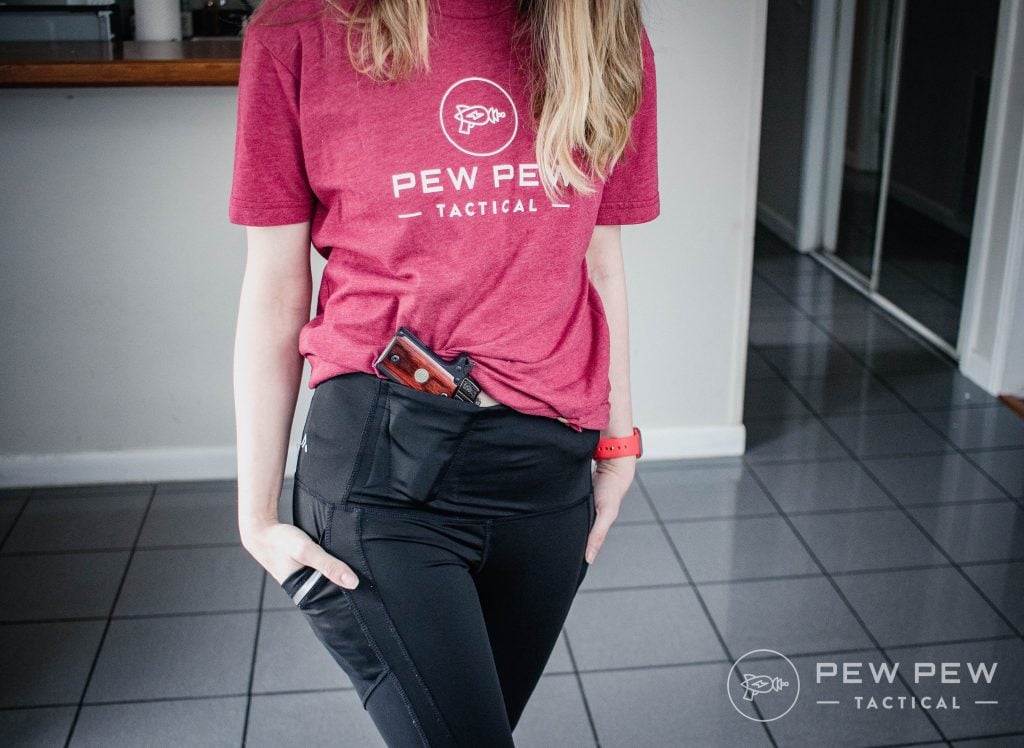 The P238 is a tiny .380 ACP semi-auto that works really well as a backup gun or, in the case of dresses, a primary on the thigh.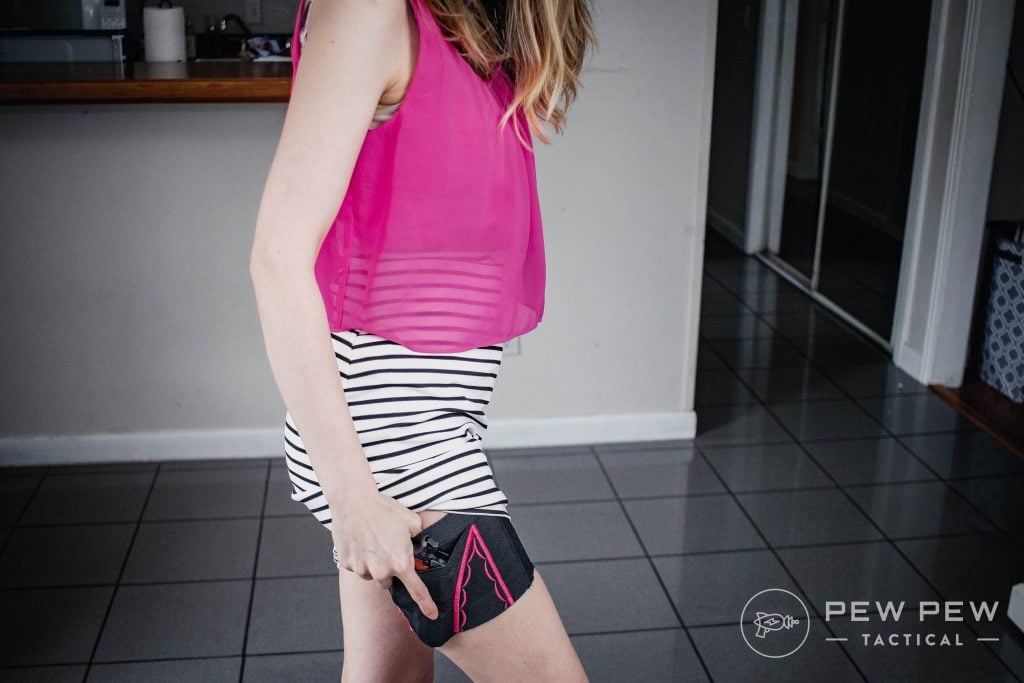 I usually wear the Can Can Concealment Garter Holster dresses and skirts and alongside the Sig it works really well. Perfect date night combo!
Need more tips on how to carry as a lady? Check out my article here!
Sean Curtis, Head of Business Development
Walther PDP
For everyday carry, I trust the Walther PDP.
I carried it on duty before I retired and love it! Some of my favorite features are the grip, trigger, accuracy, and reliability of the gun.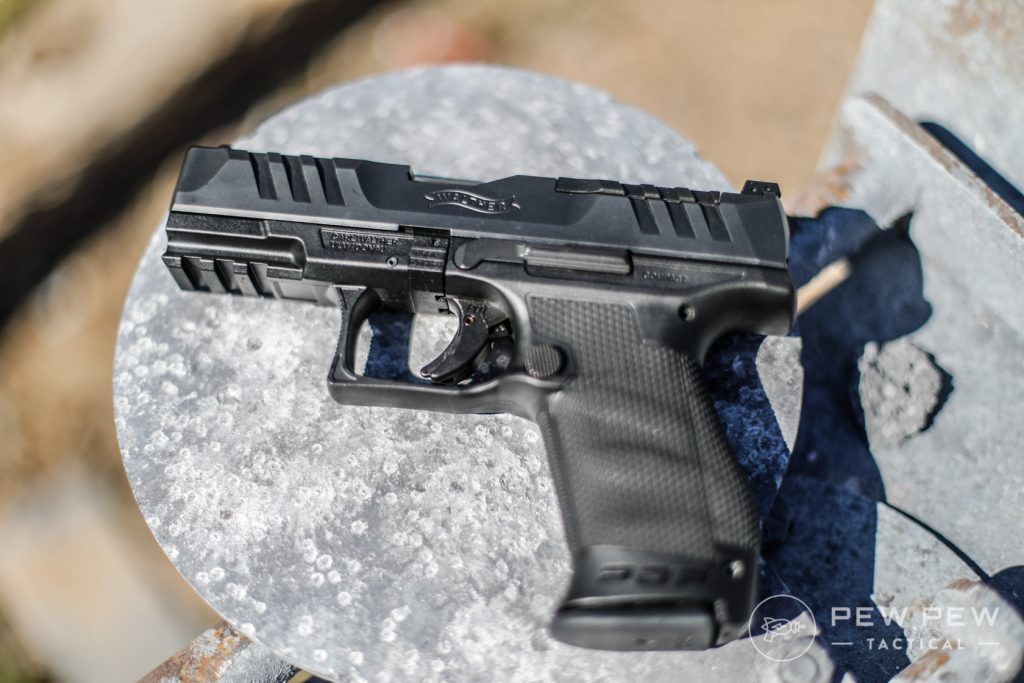 I have several thousand rounds through the full-size and compact models now — both have been outstanding.
For formal occasions, I run the full-size in a Safariland Level III Duty Holster, as well as a C&G OWB Kydex holster.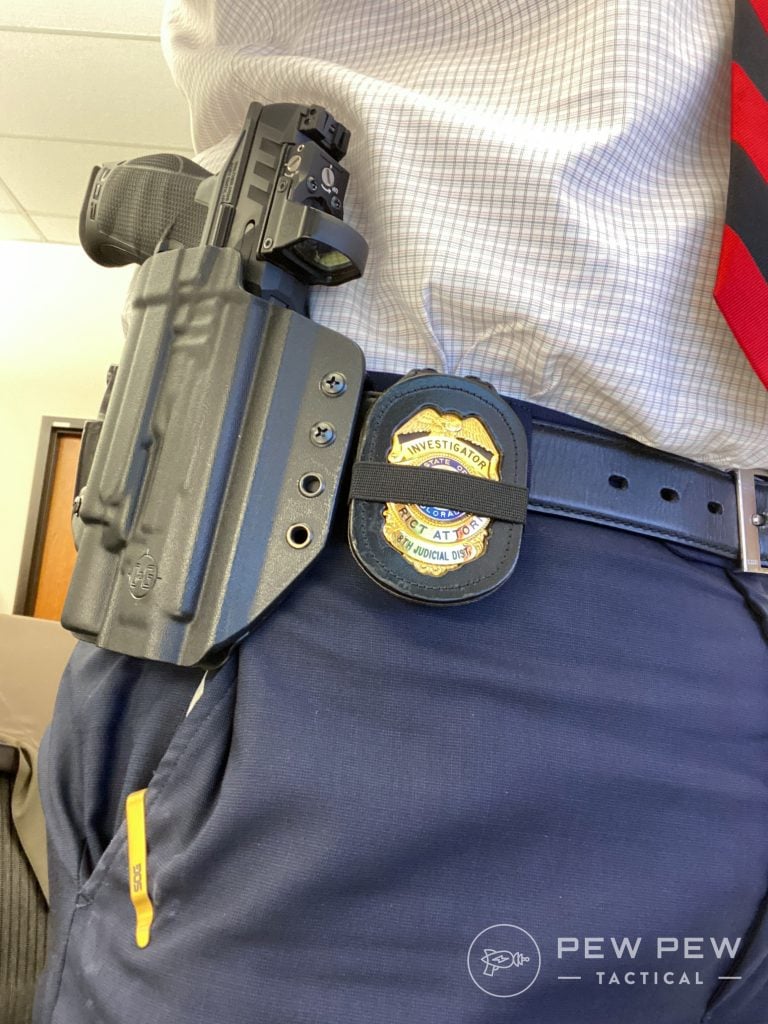 The compact PDP also fits nicely in an IWB holster from C&G.
While I have a Leupold DeltaPoint Pro on the full size, the compact is still a slick top…for now!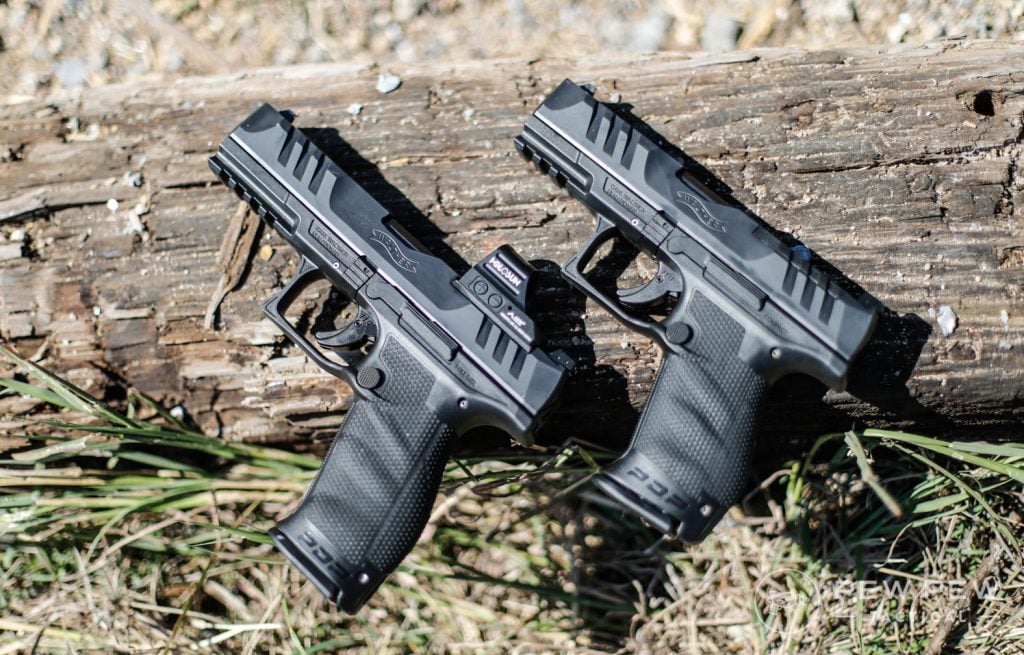 Johnny Bragg, PPT YouTube Contributor
As y'all know, I test a ton of pistols for Pew Pew Tactical, so my EDC changes like the weather.
This week's rig is the FN 509 Compact, colored in tired dark earth, plus an extra mag.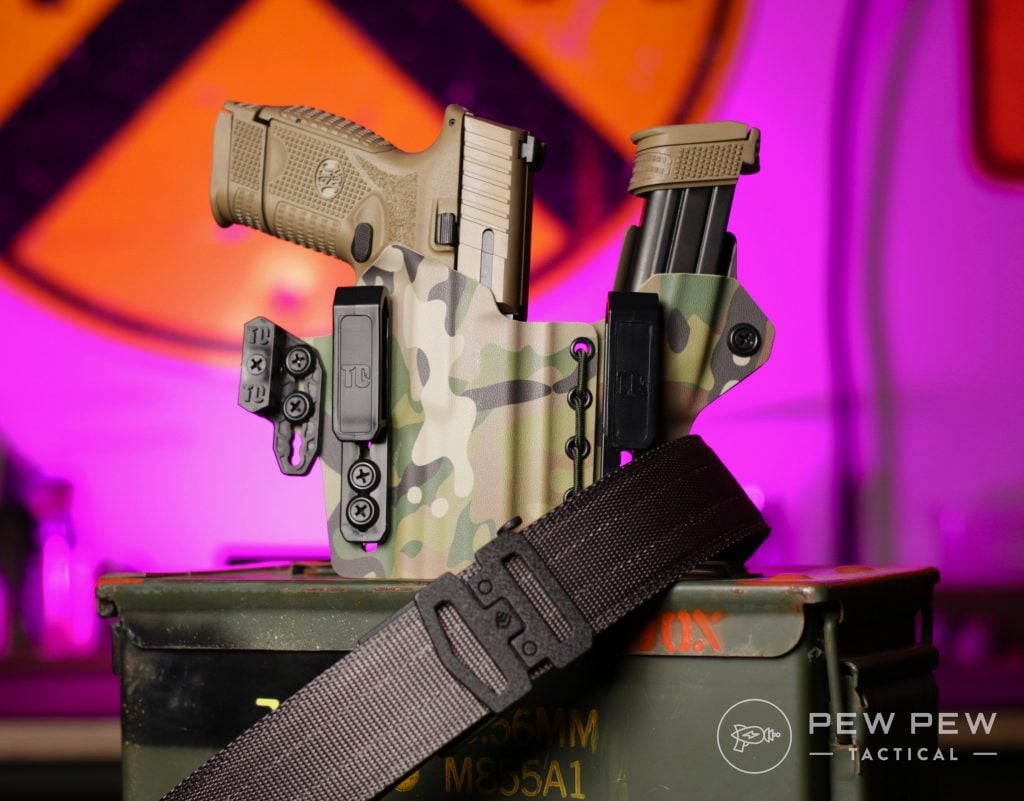 I've already done a full range test on the 509C, and this thing runs like a Swiss sewing machine.
Just got this new Tier 1 Concealed AIWB holster – so far so good.
I've recently fallen in love with the Kore Essentials X7. I wear it with the buckle at 4 o'clock and am super happy with it. Read our full writeup on the Kore Essentials belt here!
Great rig this week but be sure to check out some of the other guns I've reviewed here.
Alice Jones Webb, PPT Contributor
Glock G19
I'll admit to being a bit of a Glock fan girl. My penchant for polymer pistols surprises some people, especially considering my affection for antique cowboy lever rifles.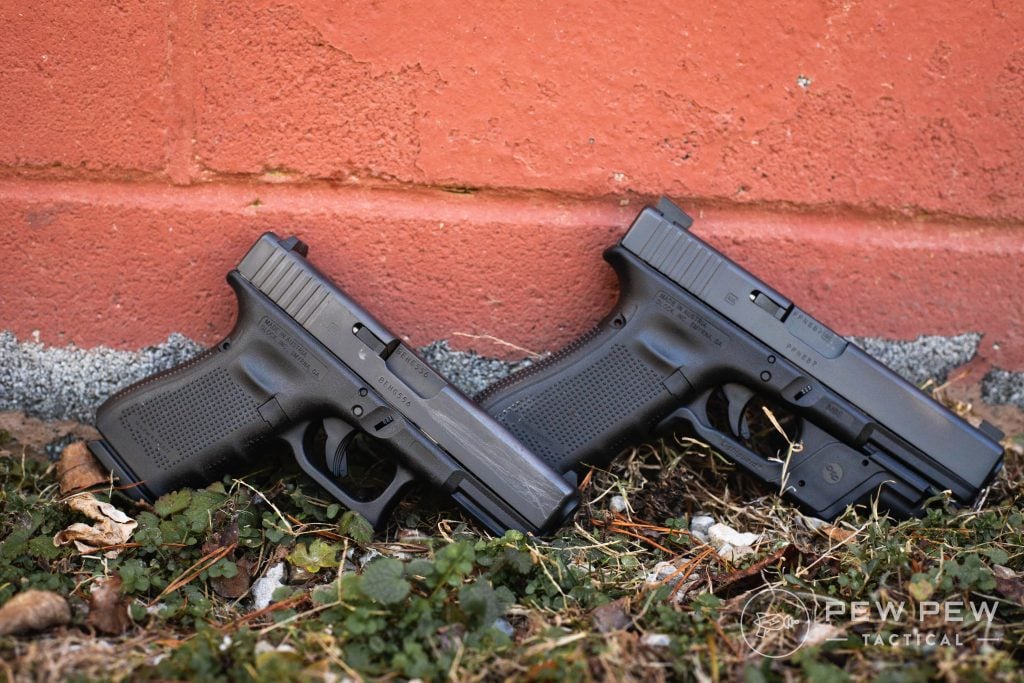 However, in a life-or-death situation I want something I know I can shoot confidently and effectively.
That's why most days you'll find me with a Glock 19 strapped somewhere on my body.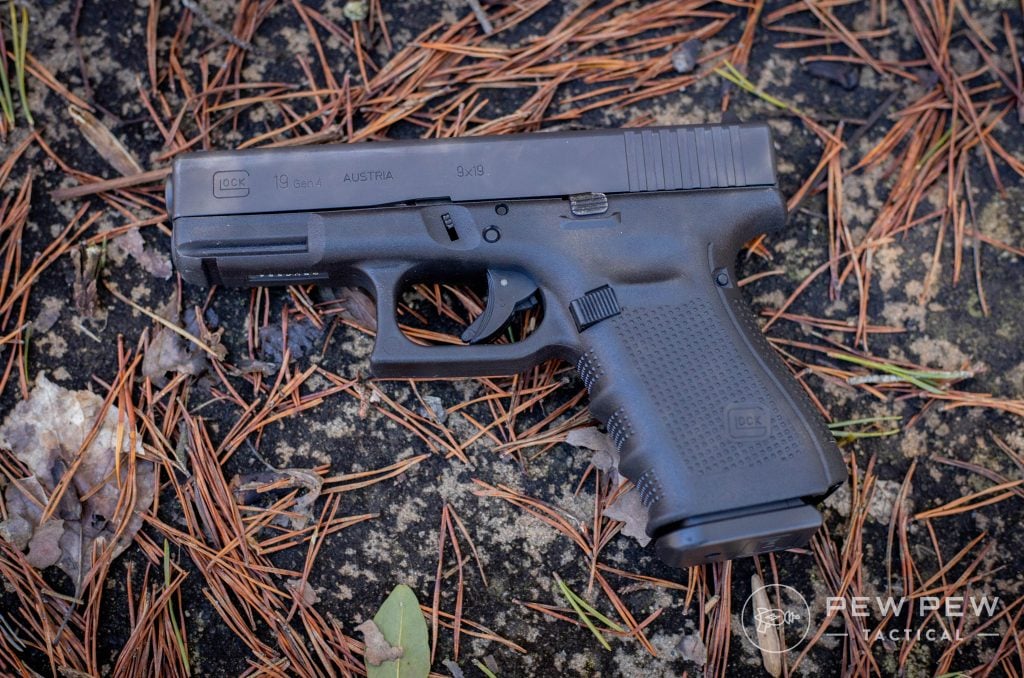 I only have one carry gun. That means I end up changing my wardrobe to accommodate my weapon rather than the other way around.
While I have a drawer full of holster options (I literally own more holsters than pairs of shoes. I'm that kind of gal.), I have three favorites.
The Sidecar from T.REX Arms is a heavy-duty IWB that is tough, yet comfortable.
It has a smooth draw, just-right retention, and a slim enough profile to make my gat disappear under a hoodie, sweater, or even a flowy blouse.
Honestly, T.Rex Arms and Glocks go together like peanut butter and jelly, and you won't convince me otherwise.
I also love a good belly band, especially if I'm wearing something with an elastic waistband, or on the extremely rare occasion, I'm donning a dress.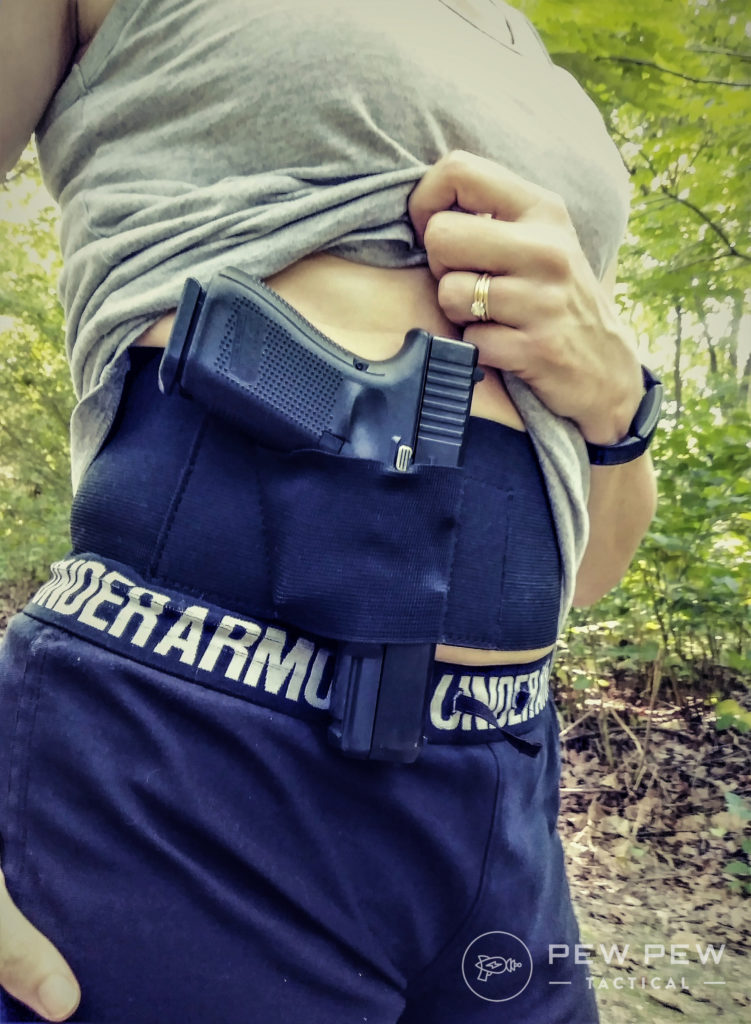 The ComfortTac Ultimate Belly Band Holster is one of my favorites.
While open carry has highly vocal critics, there are times I absolutely need to do it.
Those times usually involve hunting, the woods, and copious layers of hunting gear. Having a sidearm as a backup, especially when I'm bowhunting, just seems like a good idea.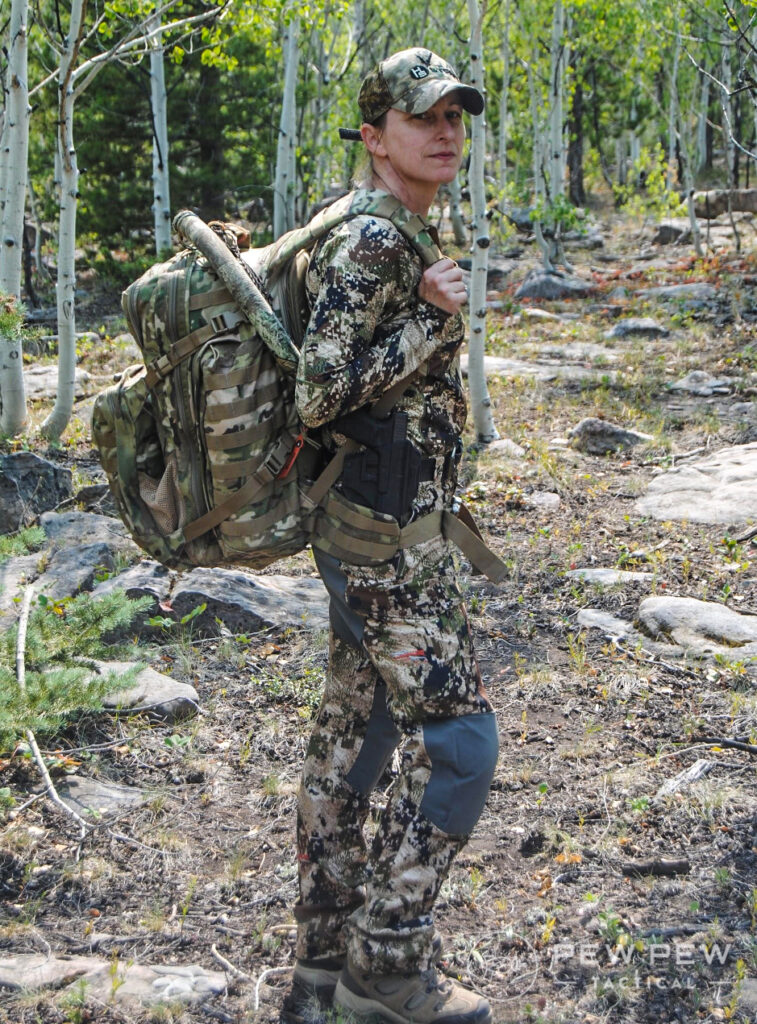 Coyotes, copperheads, and human predators are out there, and I would rather confront most of those with a 9mm than a sharp, pointy stick.
Because I don't want to fumble through clothing layers to reach my handgun, my Glock often rides around the backcountry on my hip in an Alien Gear Paddle Holster.
Travis Pike, PPT Contributor
Sig Sauer P365 with XL Slide
My carry gun is a P365XL slide mated to a standard P365 frame.
I get all the benefits of the longer slide with all the concealment of the standard frame. Plus, I can use the smaller magazines to reduce the size even more.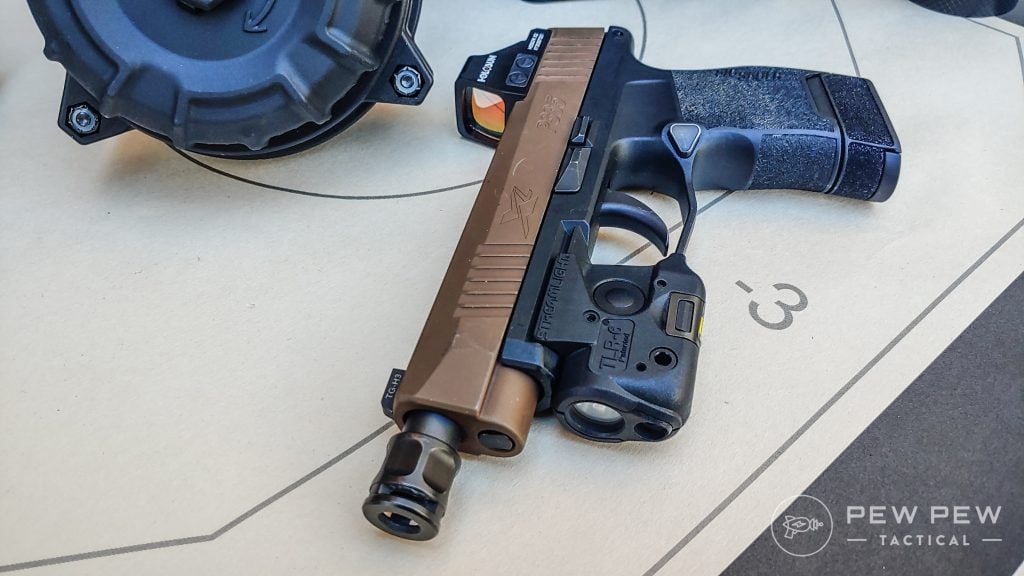 Of course, smaller magazines mean less capacity right? 
Not so with the Mag Guts P365 magazine springs.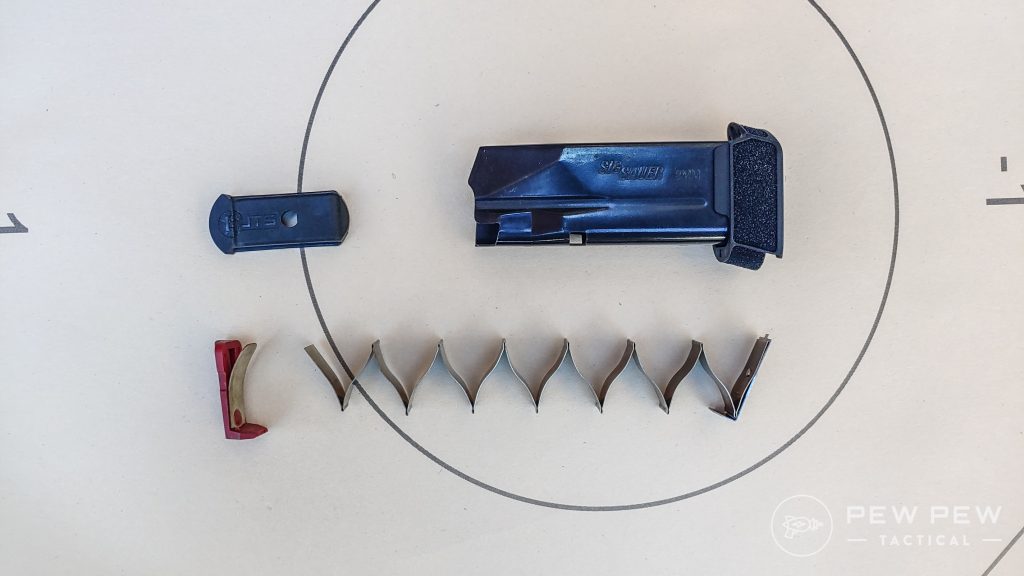 These allow me to add +2 rounds to my 10- and 12-round magazines. I tend to carry with the 12-round magazine that has a capacity of 14 with the Mag Guts installed. 
The barrel is a True Precision threaded variant and it wears a Griffin Armament Micro Comp.
The optic is the Holosun 507K, which features almost all the awesome features of Holosun pistol optics and only lacks the solar panel.
The entire package ups the gun's capabilities. 
It's easier to shoot faster, further, and more accurate and that's what matters to me.
It might not be the most compact P365, but it's one of the easiest to handle and helps eliminate the human error associated with shooting.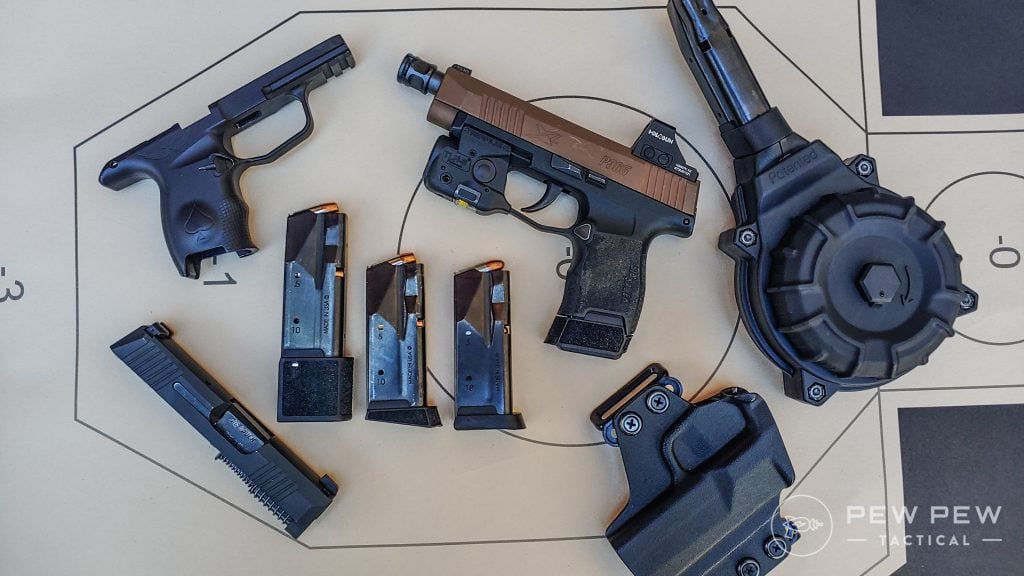 Read up on more of my upgrades here!
Todd Gimian, PPT Contributor
For my EDC, I carry a modified Glock 43x.
It has a "grip swell" by LVstipple to increase the width of the grip to a uniform dimension and eliminate the "Glock bump." LV stipple did the stippling as well.
The slide was milled for Holosun 507k by Grant Defense, as well as Grant Defense's trigger.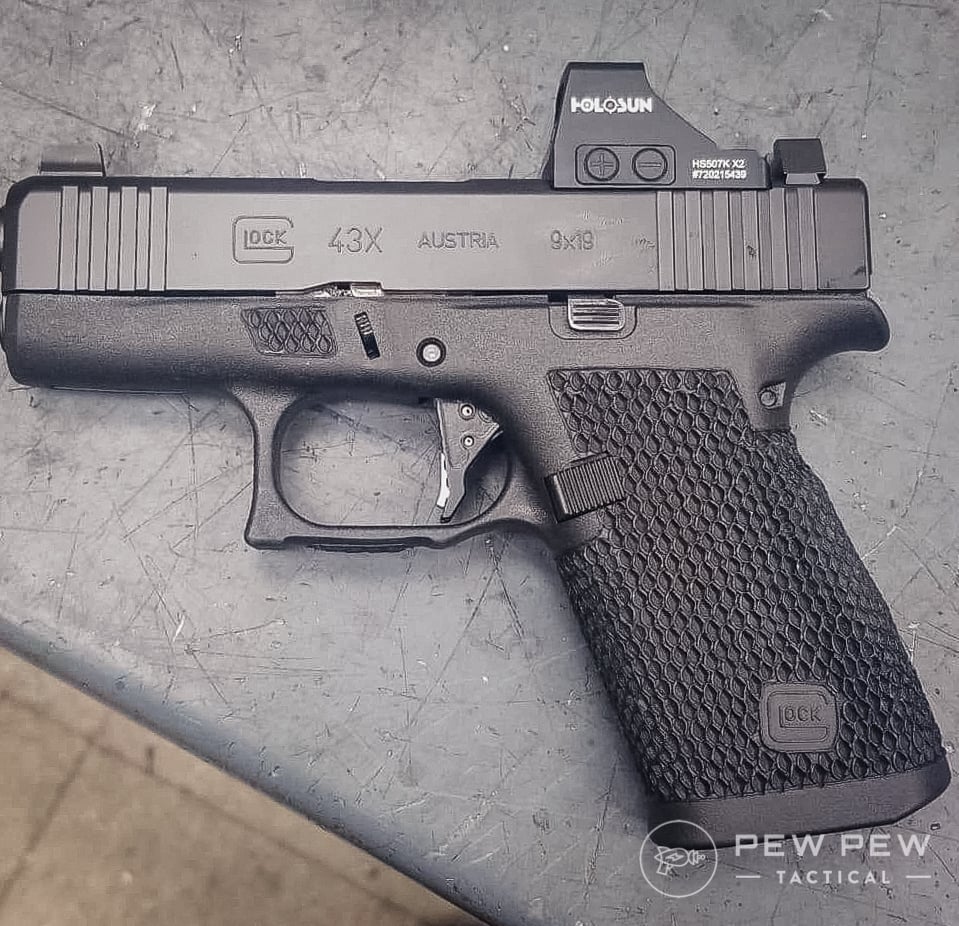 I carry the Glock in a Phlster Pro Series holster attached to a Phlster Enigma — that I'm currently in the process of combining with their Flex to allow for a better knife attachment.
The knife I carry is a Flagrant Havoc by Flagrant Beard.
Beyond the knife and gun, I carry one extra Shield Arms S-15 magazine (for 30 rounds total on me). And, if I don't have a bag with me, I'll also carry a Cat7 Tourniquet.
Conclusion
As you can see, concealed carry is a very personal choice and often dictated by each person's build and lifestyle.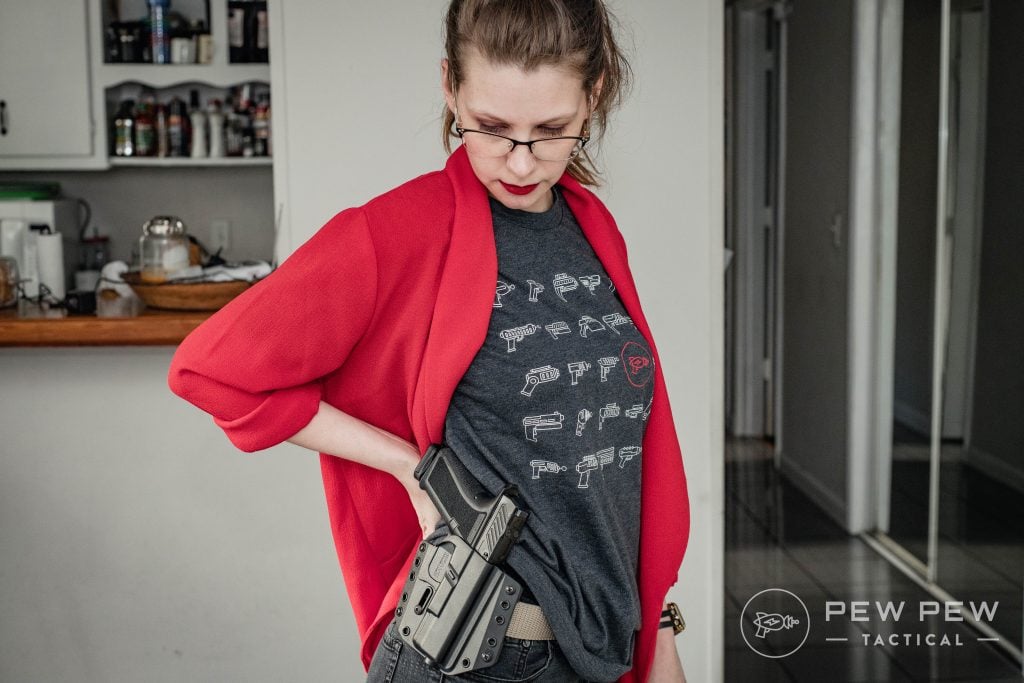 Hopefully, this has given you some inspiration for your own carry choices and will help you out when picking one for yourself.
What do you think about our choices? Any questions for our authors? Let us know in the comments below! Once you've gotten your carry gun, check out our Best Concealed Carry Holsters.
Source
What the Pew Pew Writers Carry [2021] is written by Jacki Billings, Editor for www.pewpewtactical.com